Sobre Vagaro
Vagaro is a cloud-based salon, spa and fitness business management solution that allows professionals to book appointments and manage various facility roles. It offers an integrated solution to manage bookkeeping, payroll, client databases and inventory management, as well as featuring email and text notifications to clients and automated email marketing. Users can list available appointment slots, and customers can then look for salon facilities nearby and book appointments through Vagaro's website or the Vagaro app. VagaroPro, the business app, is available for Android and iOS smartphones. Users can create customizable promotional web pages to showcase upcoming events and special offers through Vagaro's website or connect with their customers through email and social media platforms. Customers can also create personalized profiles with their contact information, booking history and feedback. Users can keep records of their customer service histories and generate customizable reports with graphs and charts to track business performance, customer retention and more.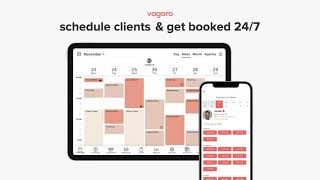 Vagaro dispone de una versión gratuita y ofrece una prueba gratis. La versión de pago de Vagaro está disponible a partir de 25,00 US$/mes.
Precio inicial:
25,00 US$/mes
Sector: Productos cosméticos
Tamaño de la empresa: Trabajador autónomo
Usado

A diario

en

Más de dos años

Fuente de la reseña
Relación calidad-precio
5
---
Very Help to Small Bussiness
Tiene el mejor precio para los micro negocios
Puntos a favor
las clases son verdaderamente interesantes
Desventajas
Todo esta muy bien entendido en las clases
Respuesta de

Vagaro

Hi Adela, thanks so much for your feedback. We greatly appreciate that you took the time to share your experience with our Software. Thank you for being a Vagaro Business!

Respondido el 24/7/2020
Sector: Medicina alternativa
Tamaño de la empresa: Trabajador autónomo
Usado

A diario

en

1-5 meses

Fuente de la reseña
Relación calidad-precio
5
---
Me encanta
Todo en uno a un precio accesible, mejor que otras compañías que he probado y en Puerto Rico funciona super bien.
Puntos a favor
EL precio es fabuloso. Ellos pensaron en todo y como cada negocio tiene necesidades diferentes crearon los servicios individuales y tu los añades de acuerdo a las demandas de tu negocio y eso vale un millón. Accesible y fácil de usar. Te facilita la vida muchísimo. Gracias por crear esta super herramienta para negocios.
Desventajas
no he visto un contra. todo me encanta. los tutoriales son lo mejor.
Respuesta de

Vagaro

Hello, thank you for sharing your feedback. We appreciate it so much. We are grateful to have you as a Business on Vagaro!

Respondido el 26/2/2020
Sector: Práctica médica
Tamaño de la empresa: Trabajador autónomo
Usado

Semanalmente

en

Más de dos años

Fuente de la reseña
Relación calidad-precio
5
---
VAGARO FOR MEDICAL AESTHETICS PRACTICE
I love that Technical Support Staff are knowledgeable, patient and available when I need them.
Puntos a favor
I LOVE the ease of scheduling clients from my hand held devices. Love the Colors, design; very user friendly.
Desventajas
Honestly need to play around more with the Features, which I hear a many (from a friend whom I referred for her Yoga Business. She switched from Mind Body and LOVES Vagaro).
Wish Vagaro would invest in NICE Modern looking POS devices like Square and Clover.
Sector: Servicios individuales y familiares
Tamaño de la empresa: 2-10 empleados
Usado

A diario

en

Más de dos años

Fuente de la reseña
Relación calidad-precio
5
---
Vagaro at Take Two Salon
What I appreciate most is the great customer service. I also appreciate that the "request for a feature" is actively monitored and new features are constantly rolled out. I appreciate that we are able to speak to the same support reps consistantly vs calling a call center where you can get different reps on each call and often need to explain your issue from the beginning. And they are super friendly.
Puntos a favor
Vagaro iseasy to use, easy to train, and offers fair pricing.
Desventajas
If a client has a Vagaro profile but is new to my salon I have no choice but to accept their existing profile because you can not use the same email for a new profile. That should be an option as some clients may need a new profile for these services vs other service they obtain elsewhere
Respuesta de

Vagaro

Hi Michele, we just wanted to thank you for your kind feedback. We are so glad that you are enjoying the software, and thankful to have you as one of our Vagaro Businesses!

Respondido el 4/5/2021
Usado

A diario

en

1-5 meses

Fuente de la reseña
Relación calidad-precio
1
---
TERRIBLE customer service and point of sale!
Puntos a favor
Online booking was a nice perk, although if a client didn't know how to book the first time(new online website) they would add themselves again so deleting a profile found to be quite an ordeal.
TERRIBLE TERRIBLE TERRIBLE customer service. I've been a user for the past 2 months and can't wait to find a new software company. It started great, so much easier that square appointments, online booking, the works! Wow... no. The booking service works okay, when it wants to open. I have better luck on my phone but being that I have an iPhone X I don't have a headphone jack so to swipe a card I use my iPad. It never works the first, or usually the second time so I have to pull out he reader and plug it back in. Any issues or questions I have leads to me having to wait on hold for customer service for 20+ minutes or waiting for an email response. There are a ton of hidden fees every month that we're never discussed(of course in the fine print but never but an agent) for card processing and I am beyond disgusted at how they are handeling a gift card order I purchased for my new, small business. I paid for perfect gift cards that were designed incorrectly because of me, but because I was told the wrong information by their team during the beginning stages of the ordering process. They are beyond condescending and unwilling to work with me in this issue and even went to the length the add up what both orders plus shipping would cost me if I decide to fix my issue
Desventajas
I was willing to get past the slower, unreliable point of sale and I can't start to explain how much time and effort went into setting this up and transitioning from another booker is so I'm so discusted to have to do it again due to in my opinion an easy fix by the company. I still can't believe how this matter was handled and how I was spoken to over a small order of gift cards.
Respuesta de

Vagaro

You didn't report issues accessing any of the account functions. If you had we would have advised on how to correct any connectivity issues. The mobile CC reader which operates with the Vagaro Pro app does use a headphone jack which works with the iPhone X adapter; we have no issues w/ compatibility/connection reliability. The report of a 20-minute hold time is inaccurate. Even including high call volumes, our average time to answer is 2 mins. We are also hiring more staff as we would rather it be even less time. Rates & fees were disclosed on the merchant services signup page & you had a screen to review the application before signing, disclosing everything. You called 1x regarding merchant services and had all of your questions answered accurately. The call record was reviewed.
Gift card order: design, proofing, and approval process completed. You never told the graphics team you wanted a foil inlay on gift cards and you approved the proof. Mgmt professionally told you all of this.

Respondido el 22/1/2018