Sobre Vagaro
Vagaro is a cloud-based salon, spa and fitness business management solution that allows professionals to book appointments and manage various facility roles. It offers an integrated solution to manage bookkeeping, payroll, client databases and inventory management, as well as featuring email and text notifications to clients and automated email marketing. Users can list available appointment slots, and customers can then look for salon facilities nearby and book appointments through Vagaro's website or the Vagaro app. VagaroPro, the business app, is available for Android and iOS smartphones. Users can create customizable promotional web pages to showcase upcoming events and special offers through Vagaro's website or connect with their customers through email and social media platforms. Customers can also create personalized profiles with their contact information, booking history and feedback. Users can keep records of their customer service histories and generate customizable reports with graphs and charts to track business performance, customer retention and more.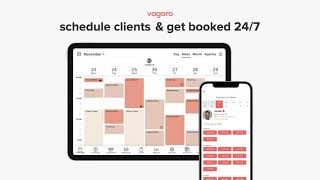 Vagaro dispone de una versión gratuita y ofrece una prueba gratis. La versión de pago de Vagaro está disponible a partir de 25,00 US$/mes.
Precio inicial:
25,00 US$/mes
Sector: Productos cosméticos
Tamaño de la empresa: Trabajador autónomo
Software usado

A diario

durante

Más de dos años

Fuente de la opinión
Relación calidad-precio
5
---
Very Help to Small Bussiness
Tiene el mejor precio para los micro negocios
Puntos a favor
las clases son verdaderamente interesantes
Desventajas
Todo esta muy bien entendido en las clases
Respuesta de

Vagaro

Hi Adela, thanks so much for your feedback. We greatly appreciate that you took the time to share your experience with our Software. Thank you for being a Vagaro Business!

Respondido el 24/7/2020
Sector: Medicina alternativa
Tamaño de la empresa: Trabajador autónomo
Software usado

A diario

durante

1-5 meses

Fuente de la opinión
Relación calidad-precio
5
---
Me encanta
Todo en uno a un precio accesible, mejor que otras compañías que he probado y en Puerto Rico funciona super bien.
Puntos a favor
EL precio es fabuloso. Ellos pensaron en todo y como cada negocio tiene necesidades diferentes crearon los servicios individuales y tu los añades de acuerdo a las demandas de tu negocio y eso vale un millón. Accesible y fácil de usar. Te facilita la vida muchísimo. Gracias por crear esta super herramienta para negocios.
Desventajas
no he visto un contra. todo me encanta. los tutoriales son lo mejor.
Respuesta de

Vagaro

Hello, thank you for sharing your feedback. We appreciate it so much. We are grateful to have you as a Business on Vagaro!

Respondido el 26/2/2020
Sector: Práctica médica
Tamaño de la empresa: Trabajador autónomo
Software usado

Semanalmente

durante

Más de dos años

Fuente de la opinión
Relación calidad-precio
5
---
VAGARO FOR MEDICAL AESTHETICS PRACTICE
I love that Technical Support Staff are knowledgeable, patient and available when I need them.
Puntos a favor
I LOVE the ease of scheduling clients from my hand held devices. Love the Colors, design; very user friendly.
Desventajas
Honestly need to play around more with the Features, which I hear a many (from a friend whom I referred for her Yoga Business. She switched from Mind Body and LOVES Vagaro).
Wish Vagaro would invest in NICE Modern looking POS devices like Square and Clover.
Sector: Salud, bienestar y deporte
Tamaño de la empresa: Trabajador autónomo
Software usado

A diario

durante

Más de dos años

Fuente de la opinión
Relación calidad-precio
5
---
Love Vagaro!
I'm saving a lot of space not having to keep a paper schedule. Taxes are way easier, and if I used the software how it was meant to be used, it would be even easier. Baby steps! Haha.
Puntos a favor
It is super easy to use, and if it isn't, customer service is there to help. The tutorials help too! TONS! There were a few things I had to give up moving to Vagaro from my old software, but I told customer service about it and not only did they figure out a way for me to still kinda offer the same thing to my clients, soon after, they came out with the option I needed!!! Like they did it just for me!
Desventajas
It's NOT the software I have an issue with...It's payment processing. WAY TOO LONG TO GET PAID when my clients pay through Vagaro. I discourage it mostly.
Tamaño de la empresa: 2-10 empleados
Software usado

A diario

durante

Más de dos años

Fuente de la opinión
Relación calidad-precio
3
---
Ok for single operator. Not effective for bigger salon.
Their customer-service department seems to be filled with condescending 20 somethings who enjoy attempting to make users feel inadequate. The last 3 times I've had to call-in and ask a question or have voice a concern about the product, I've been spoken down to by someone half my age.
Puntos a favor
The calendar is easy and self explanatory. It seems easy to use Even for people with no computer experience . If you're still using pencil and paper , this is way better than that . Probably a great product for both renters. Clients like notification system.
Desventajas
If you've used any other salon softwares that are in a high performance category as far as reporting and/or user experience this will not suit your needs . It is very rudimentary in its performance . It does not allow for any customization in reports or in applications .
Many features are archaic and need updating. The feature to logout users after a certain amount of time can't recognize the difference between idle and not idle so it will log you out and lose your work in the middle of a session . The "marketing" section is mediocre at best . IF you've already been running a computerized operation for 5 yrs or more, you will find the software completely inefficient . It does not save your work if you're in the middle of procedures when it logs out . It cannot tell the difference between tasks in progress and idleness . If you leave the program wide-open and it doesn't log anybody out automatically, then your separate users have no recognition within the system, Unless they individually and manually log themselves in-and-out every time . SO MANY SILLY TIME WASTING things that MUST be done manually every session. Yuck.