Sobre JivoChat
JivoChat is a business communication tool for e-commerce companies. It offers live chat, emails, calls and Facebook messaging in one omnichannel app. Users can implement live chat on their website, provide chat support to clients on Facebook, handle messages to a company's email address, and calls to a phone number in any country. Your messages and chat history can be found in one inbox so there's no need to sign up for multiple communication tools. Your team can react quickly to all inquiries. You can increase website conversion rates and building better customer service experiences. Live chat lets you talk with new and current visitors to your site with a proactive in-app chat. You can continue your conversation on your customers' favorite social media outlet: Facebook. Get a phone number in 50+ countries or activate any existing number to make outgoing calls with Jivo Business Phone. Use professional features such as call recordings, transfers, routing and more. A unique Instant Callbacks feature encourages your potential customers to call you so that you can close more deals. Redirect emails from your company's address to the JivoChat Inbox – your team will reply faster and no message will ever be missed.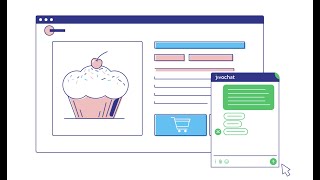 JivoChat dispone de una versión gratuita y ofrece una prueba gratis. La versión de pago de JivoChat está disponible a partir de 19,00 US$/año.
Precio inicial:
19,00 US$/año
Sector: Inalámbrico
Tamaño de la empresa: 2-10 empleados
Software usado

A diario

durante

1-5 meses

Fuente de la opinión
Relación calidad-precio
4
---
Implementacion en innovalitoral.com.ar
Excelente
Puntos a favor
Excelente en todo sentido, muy sencillo de implementar y con las funcionalidades pro es una potente herramienta de ventas
Desventajas
no he podido integrar applechat a la plataforma, los tutoriales estan desactualizados
Sector: Internet
Tamaño de la empresa: Trabajador autónomo
Software usado

A diario

durante

Prueba gratis

Fuente de la opinión
Relación calidad-precio
5
---
Forget about Chatbots, JivoChat is the real deal
Super Easy to use, great interface, nice look and feel, simple installation, everybody who has a web page, should also have JivoChat installed.
Puntos a favor
You get a 14 day free trail, so you can check out the product and even have it like a white Label. The Installation is super simply, it is like setting up your Google Analytics account. The software makes a sound when a new user is entering your Homepage, you can say "Hallo, and tell him if he needs anything you will be here!" This is the future of good running pages, you have to have a super great support, and the people stay longer only because they know, somebody is here to help if you have a special question about a product or service. So you do not need the Facebook Messenger or anything like that, you get a great software from JivoChat. I love it!
Desventajas
Only because there is no German software available because my clients do not speak Englisch that could, but they also have no issues with the Software.
Razones para elegir JivoChat
because to make the bot sound like a human, would take forever and the bot is not really cheap
Razones para cambiar a JivoChat
it just looks more innovative, the support is awesome and the people you are talking too are really nice
Sector: Marketing y publicidad
Tamaño de la empresa: 2-10 empleados
Software usado

A diario

durante

Más de dos años

Fuente de la opinión
Relación calidad-precio
4
---
Táticoo e JivoChat - Parceria de sucesso
Muito satisfeito. Principalmente pela parceria e Programa de Afiliados.
Quando os clientes precisaram, sempre utilizamos JivoChat em nossos projetos.
Puntos a favor
A flexibilidade da ferramenta e as integrações.
Desventajas
Hoje em dia, com o grande foco em Tempo de Load e Web Vitals a ferramenta de chat pode influenciar negativamente esses resultados. Mas não tem outro ferramenta de chat que resolve bem tudo isso.
Sector: Software informático
Tamaño de la empresa: 11-50 empleados
Software usado

A diario

durante

Más de dos años

Fuente de la opinión
Relación calidad-precio
4
---
2+ years with Jivochat
This would've been a good tool with lots of useful options. However, the issues with this crucially important feature are a deal-breaker for us. We wish they got that fixed, so that we could post a better review here
Puntos a favor
A simple and functional tool that would've been great for any support service, had the developers bothered to fix the issues
Desventajas
All the good things I could've said about Jivochat are outweighed by a crucial flaw in their software that has been there for years.
When our support agents are not online, we receive offline messages from our customers. These message notifications are directed to our helpdesk tool, the user who's sent it also receives a notification. The problem is that if a user clicks unsubscribe in the notification they receive, the unsubscribe action works both for them and for us, and so after one user unsubscribes, we're also unsubscribed from all the offline message notifications that come from the other users. The messages no longer make it to our support desk, and we cannot process them, and this leads to decrease in customer satisfaction and lost business.
It is, of course, possible to find all the lost messages in Jivosite admin panel, however, we get hundreds of tickets a day that are processed in our ticketing system. It is very hard to manage tens of offline messages manually in the Jivosite admin panel without creating a ticket.
We have contacted their support agents time and time again about this, we had to do it three times just this month. Each time they fix this for us and promise that it will never happen again. Each time this does happen again.
Sadly, we haven't seen any improvement over the two years that we're using Jivosite, and unfortunately, we are already looking at other options.
Sector: Marketing y publicidad
Tamaño de la empresa: 11-50 empleados
Software usado

A diario

durante

6-12 meses

Fuente de la opinión
Relación calidad-precio
4
---
Praticidade, agilidade e eficiência
Como cliente final é um sistema perfeito com ótimo custo benefícios. Para agências é um aliado na entrega de uma ótima ferramenta para nossos clientes e também na geração de receita.
Puntos a favor
Agilidade na implantação e facilidade no uso. layout com experiência perfeita para o atendente e para o cliente final.
Desventajas
Poderia ter algumas integrações nativas com plataforma de ecommerce.