Sobre Yelp Guest Manager
Yelp Guest Manager helps restaurants manage all of their front-of-house operations across the entire dining experience through one fully integrated solution — by bringing together Yelp Waitlist, Reservations, Kiosk, Takeout, Table Management, online brand building and more into one product. Yelp Guest Manager combines Yelp's high-intent diner network with powerful solutions that simplify and streamline restaurant operations from takeout and delivery orders to dine-in seating.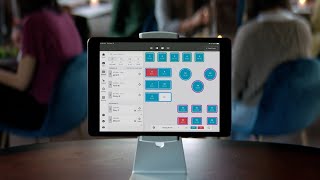 Precios de Yelp Guest Manager
Yelp Guest Manager no está disponible en versión gratuita. La versión de pago de Yelp Guest Manager está disponible a partir de 99,00 US$/mes.
Precio inicial:
99,00 US$/mes
Alternativas a Yelp Guest Manager
Opiniones de Yelp Guest Manager
Sector: Redacción y edición
Tamaño de la empresa: 51-200 empleados
Software usado

Semanalmente

durante

Más de un año

Fuente de la opinión
Relación calidad-precio
5
---
The Top Application for Your Restaurant!
Our small restaurant wants to expand to multiple locations in California. By using Yelp Reservations, we can see how we would manage multiple restaurants as our customer base has continually grown over the past year.
Puntos a favor
Yelp Reservations helps me easily handle customers through managing reservations and contacting my customers on the go. Besides working in (online) education, I also help manage a small restaurant in a very populated city. Our soft opening was insane but the experience was amazing thanks to the accessibility of Yelp Reservations. Our team could find where to see who was on the wait-list and who was waiting to be seated for reservations.
Desventajas
I did not find any problems with using Yelp Reservations in our small restaurant. It is very restaurant and customer friendly.
Sector: Arte y artesanía
Tamaño de la empresa: 2-10 empleados
Software usado

Otro

durante

6-12 meses

Fuente de la opinión
Relación calidad-precio
5
---
One stop
Frustration-free experience. Booking is very simple and takes 30 seconds.
Puntos a favor
I like that it's a one stop shop for me, I find the restaurant on yelp and make reservations without having to call. It's also nice to see current wait times, very convenient,
Desventajas
I didn't notice any cons whatsoever. I guess the only thing is if you need a special table like a view or in a specific area of a restaurant you'd have to call.
Software usado

Otro

durante

Más de dos años

Fuente de la opinión
Relación calidad-precio
2
---
I've used Yelp Reservations when I've been on Yelp and see reservations are available.
Puntos a favor
If I'm already on Yelp looking for a restaurant and I happen upon a restaurant I definitely want to make a reservation at and see reservations are possible to book via Yelp directly, I'll use Yelp Reservations. The user experience is quick and seamless and comparable to reservation competitors like OpenTable and Resy. I like that because it's familiar, it's easy and it's not overcomplicated. The email confirmation follow-up is always good, too. Pretty standard, but good nonetheless.
Desventajas
I dislike 2 main things about Yelp Reservations. First (on desktop) if you're on Yelp Reservations then decide to change what cuisine or what neighborhood you're looking for in the search bar, the search generates regular Yelp results vs. Yelp Reservation results. You have to click "Make a Reservation" again at the top, which is annoying and makes the experience slightly less seamless. It's not a HUGE issue, but one or two extra steps to a consumer is one too many since the reservation booking alternatives don't have this issue.
Second, it's frustrating that the search results generate neighborhoods FAR beyond the neighborhood you're searching for. It makes sense for neighborhoods relatively near the original neighborhood search to pop up but it's just not OK for neighborhoods in different states to pop up. I'd MUCH rather have less search results pop up.
Sector: Propiedad inmobiliaria
Tamaño de la empresa: Trabajador autónomo
Software usado

A diario

durante

Más de dos años

Fuente de la opinión
Relación calidad-precio
5
---
Easy review on Yelp
I am thrilled with the Yelp Guest Manager, It has brought us so much business and I do not know what we would do without it. From start to finish it is a great system and we are very pleased with it.
Puntos a favor
I like that my reviews speak for themselves. I love that people can upload pictures of their meals and photos of the restaurant. It makes potential clients comfortable like they have been there before.
Desventajas
Sometimes the wait time are a little inaccurate so we have guests that come in without reservations and then they get upset at the wait time they are told.
Sector: Educación primaria/secundaria
Tamaño de la empresa: 10.000+ empleados
Software usado

Semanalmente

durante

1-5 meses

Fuente de la opinión
Relación calidad-precio
5
---
Great for Planning Outings!
Puntos a favor
Upon downloading the app, it's incredibly easy to sign in or create an account. Then, you can filter the types of restaurants or places you were looking for by price, location, hours operating and rating. You can even make appointments or reservations which is a big convenience. My husband and I love to go out to eat so we love looking at the reviews and pictures of dishes to try.
Desventajas
The old version of this app was difficult to maneuver and wasn't very user-friendly. However since they have updated it, it is incredibly easy and user-friendly.