Sobre Accounting Seed
Accounting Seed Financial Suite is a cloud-based accounting solution catering to the needs of various industries including healthcare, insurance, manufacturing and consulting. The solution enables users to bill customers, accept payments, create custom financial reports and manage project accounting. Accounting Seed lets users create invoices from sales orders and set recurring customer bill generation. The solution can be integrated with Salesforce CRM for managing credit disbursement, tracking collections and customer interaction. Additionally, the solution can also be integrated with Stripe to collect online payments. Dashboards enable data visualization through charts and graphs for accounting and order management. Management reports can be configured with drag-and-drop editing and can be exported to Excel. The solution offers consolidated general ledger and project accounting for tracking project expenses and deliverables as well as project-based reports, budget reports and more. Accounting Seed Financial Suite is available on a monthly subscription basis and provides customer support through knowledge base available on the website, phone, email and online messaging.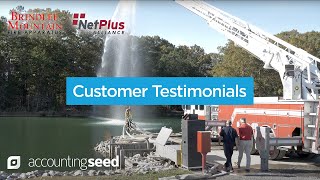 Precios de Accounting Seed
Accounting Seed no está disponible en versión gratuita y no ofrece prueba gratis.
Precio inicial:
Sin información del proveedor
Alternativas a Accounting Seed
Opiniones de Accounting Seed
Sector: Telecomunicaciones
Tamaño de la empresa: 11-50 empleados
Software usado

A diario

durante

Más de un año

Fuente de la opinión
Relación calidad-precio
5
---
Best Accounting Software for Fast Growing SMB
We have been using Accounting Seed for a bit over a year now and our whole teams loves it!
Puntos a favor
Super easy to use and easy to customize to meet your needs
Desventajas
Not the easiest to transition over to and it lacks good quality consulting partners.
Respuesta de

Accounting Seed

Hi, Collin. Thank you for your awesome review of Accounting Seed!

We are thrilled to hear you are finding great value in the software and that it is meeting your needs as a fast growing small business.
We are always looking to improve - you mentioned there were some challenges with the transition. I would love to hear more about your experience. Please feel free to contact me at [email protected] to discuss in more detail or set up a phone call.

Again, thank you for taking the time to review our accounting solution! I look forward to connecting. - Shannon

Respondido el 29/1/2019
Sector: Software informático
Tamaño de la empresa: 11-50 empleados
Software usado

A diario

durante

Más de dos años

Fuente de la opinión
Relación calidad-precio
5
---
HIG Capital Backing Moving Accounting Seed to the Next Level
I have been working on the Salesforce platform for 17 years and with Accounting Seed for 10 years in accounting for my Legal Funding, Real Estate Rental and Professional Services businesses.
It is the ability to leverage the strength of the Salesforce platform that makes the experience strong and the HIG Capital investment and Partner environment that makes the future look stronger.
Puntos a favor
In 2021 HIG Capital made a majority investment in Accounting Seed that is moving this native Salesforce application to the next level. This investment has allowed the organization to move beyond an excellent leveraging of the Salesforce object architecture to add the competitive functionality of their more mature enterprise competitors such as Sage Intacct and Oracle Netsuite.
Newly release features include Multi-Ledger Consolidation with Elimination Entries, further advancements in reporting. Focusing on the importance of the partner channel has brought much needed integration with Bill.com, Partner Portals and applications.
Project Accounting is also been made stronger through a Project Management platform developed by the partner community.
Desventajas
The Accounting Seed Orders and Entry do not add up to the functionality required in an enterprise resource planning application. One needs to use an outside partner integrated application such as Legendary Supply Chain. The budgeting and commission functionality could still be improved although several partners are stepping up in this area as well.
Razones para elegir Accounting Seed
There was no CRM capability integrated with the Intuit platform and it was a step backward from QuickBooks Enterprise edition.
Razones para cambiar a Accounting Seed
The power of the Salesforce platform and the ability of Accounting Seed to leverage it
Sector: Tecnología y servicios de la información
Tamaño de la empresa: 2-10 empleados
Software usado

A diario

durante

6-12 meses

Fuente de la opinión
Relación calidad-precio
4
---
Introduced to AS 10 Months Ago and already feel like a pro using it
We work with smaller clients often in the Manufacturing world. It was very easy for me to come up to speed and be able to train and assist our clients.
Puntos a favor
I had never heard of Accounting Seed until October 2021. I was also new to Salesforece at that time. Accounting Seed integrates so well with Salesforce that I didn't even realize I was using 2 different platforms at first. Additionally it's highly customizeable but even works well when it's fresh "out of the box". I've even worked with ERP's that use Salesforce and have their own Accounting tools and Accounting Seed is easily integrated with the ERP.
Desventajas
The biggest thing our client's have confusion on is the Bank Direct Connect and Bank Reconciliation process. BDC is there to help make reconciliations easier, however, many believe that they must be able to match up all BDC records in order for reconciliations to work.
Sector: Comercio mayorista
Tamaño de la empresa: 2-10 empleados
Software usado

A diario

durante

6-12 meses

Fuente de la opinión
Relación calidad-precio
4
---
Great Support
We've had issues on and off using the program since going live in January 2019, however, AccountingSeed Customer Support has helped us through all of those issues. They've even done some customization for us as a courtesy. I've been working on a custom template (with Conga) for months now and the fields I need on the form were not available to us. CSR with AccountingSeed helped me today with these custom fields; he added them as a courtesy and also sent me a video on how he did this. VERY helpful to have in the future.
Puntos a favor
My favorite feature is being able to Clone repeat transactions; vendor invoices and journal entries. The Bank Reconciliation is a breeze. Submitting a Ticket for assistance is very convenient. I get an email within a few hours with a solution.
Desventajas
My least favorite features are the Financial Reports and AccountingSeed-created Forms. The reports we run are very different than what AccountingSeed offers. We've found a way to make it work by exporting to Excel, updating fields, adding/deleting, etc. Another feature is the various forms that AccountingSeed created for us; Purchase Order, Packing List and Billing. When we first started using AccountingSeed we found out they didn't have Sales Orders (order confirmations). We had to purchase another App (Conga) who created the Sales Order form for us. I'm currently working on a new Purchase Order template with Conga. The issue I have with the Billing form is that is says Billing. A lot of our customers comment, asking for the Invoice number. It's just a terminology issue; billing vs invoice. We will be creating our own Invoice template with Conga as well.
Razones para elegir Accounting Seed
We've used SalesForce since 2009. We were duplicating information about orders in SalesForce, and then creating the order in our separate accounting system. Now we use AccountingSeed with SalesForce and it deletes a lot of the duplication we were doing before. All the information is in one place; SalesForce, and AccountingSeed pulls from those records.
Razones para cambiar a Accounting Seed
We chose AccountingSeed because it works well/integrates well with SalesForce.
Sector: Gestión de organizaciones sin ánimo de lucro
Tamaño de la empresa: 11-50 empleados
Software usado

A diario

durante

6-12 meses

Fuente de la opinión
Relación calidad-precio
4
---
Accounting Seed for Legal Services Nonprofit Org
Puntos a favor
I like that it's cloud based and can be accessed from anywhere.
Desventajas
The reporting features could be better, having the ability to customize reports with ease, not as "intuitive" as I had hoped, but gets the job done.
Razones para elegir Accounting Seed
Our old system did not provide a good tracking and reporting functionality for our organization. Having the ability to use variables in AS helps us do that now, which we like.
Razones para cambiar a Accounting Seed
From the demo the customization seemed very good (although once we started using the product we found limitations that we had to work around) and the pricing was very competitive at the time of purchase (although that has since gone up) compared to Intact.