Sobre HoneyBook
HoneyBook is a cloud-based customer relationship management (CRM) solution designed for small businesses. The solution helps users manage business processes from inquiry through to invoicing. HoneyBook lets users manage projects, book clients, sign contracts online, send invoices and handle payments. HoneyBook features task management that lets users view and track various stages of a project. Users can keep invoices, contracts and other documents in one place. Also, users can respond to clients with automated appointment requests and follow-ups using personalized templates and notifications. In addition, automated payment reminders can be sent and task reminders can be created based on the projects. HoneyBook integrates with tools such as QuickBooks, Calendly, Zapier, Gmail and Google Calendar. HoneyBook provides its services on a monthly subscription basis. The solution offers a mobile application for Android as well as iOS users and support is provided via email, an online help center, community forum and over the phone. For your first 6 months, get HoneyBook for $1 per month with code ONLY1.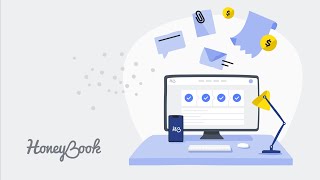 HoneyBook no tiene versión gratuita, pero ofrece una prueba gratis. La versión de pago de HoneyBook está disponible a partir de 39,00 US$/mes.
Precio inicial:
39,00 US$/mes
Sector: Servicios jurídicos
Tamaño de la empresa: 2-10 empleados
Software usado

A diario

durante

Más de dos años

Fuente de la opinión
Relación calidad-precio
5
---
The Best Client Management Resource-- goes beyond normal software
Before I used HoneyBook, I had tried several other client management platforms. All of them were clunky, and often I'd have to hunt around for things in the interest of the app developer's attention to folders and organization. What a mess! I'm so glad I switched to HoneyBook. They've consistently made product improvements and seem to really care about their customers. It gets easier and more fun to use every day, with just enough features to accomplish what I need without overwhelming me. I highly suggest this to anyone who is managing multiple clients, especially if you have client projects that tend to go dormant for awhile then pick back up.
Puntos a favor
I love how easy it is to use, and how amenable the HB team is to updating the software if you have a feature request or complaint. It provides very visual, easy user prompts that allow me to easily accomplish what I need in a fraction of the time of other software apps I've tried.
Desventajas
It's annoying that I can't delete the default emails that came with my account to replace them with my own workflow, so myself or a team member doesn't get confused with their suggested emails vs. the ones I actually want to use.
Respuesta de

HoneyBook

Christina, thank you for you being a HoneyBook member! We are so happy to hear that HB allows you to manage your clients in a fraction of time of other systems! Our Product Team works hard to consistently meet and exceed our members expectations. Thank you for the feedback on the default email templates. I will share with our team. Incase you didn't know, you can edit the default templates text and format to meet your needs.

Respondido el 23/9/2019
Sector: Fotografía
Tamaño de la empresa: Trabajador autónomo
Software usado

A diario

durante

1-5 meses

Fuente de la opinión
Relación calidad-precio
5
---
Best I've Used So Far
Overall it has been a Godsend. I am feeling much better about how I manage my business with Honeybook.
Puntos a favor
I love using Honeybook! I've tried a couple other CRM softwares, and this one is by far the easiest to deploy and keep me on track. It is logical and feels easy to use, which has kept me using it rather than reverting to inefficient paper tracking. The customer service has been great: always quick and friendly to answer questions and help me through something I didn't understand. I would highly recommend Honeybook to anyone.
Desventajas
The calendar sync is sometimes glitchy, but that could also be user error. One thing that would make it better would be an easy way to override when I am considered "busy" on my Google Calendar that syncs in. I'd also love to have SMS communication with my clients, but rumor has it they are working on this.
Alternativas consideradas
17hats
Razones para elegir HoneyBook
Zoho was just too confusing - I love that it's one big suite to manage Social, and Website, and Accounting, and CRM, and washes my windows...but it was overwhelming, and to have someone help me set it up would require an additional subscription. Studio Cloud was just clunky. I may not have given it enough effort, but it just wasn't quite there for me.
Sector: Recursos Humanos
Tamaño de la empresa: Trabajador autónomo
Software usado

Semanalmente

durante

1-5 meses

Fuente de la opinión
Relación calidad-precio
0
---
HoneyBook Administration
HoneyBook didn't work for what I needed
Puntos a favor
It was supposed to be tailored for coaching / consulting services.
Desventajas
The functionality was difficult to utilize.
Sector: Marketing y publicidad
Tamaño de la empresa: 2-10 empleados
Software usado

A diario

durante

6-12 meses

Fuente de la opinión
Relación calidad-precio
5
---
Solid Payment Invoicing & Proposal Tool
8/10. Once the client has paid the first time, their automated recurring payment solution is working really well for me.
Puntos a favor
I moved away from Quickbooks online because they didn't have an easy way to send customers automatic recurring invoices. Honeybook had pre-built service agreements along with the automated recurring payments feature I needed for my business. It was appealing to work with them because set up was very easy to get what we needed up and running
Desventajas
After a client pays their invoice, it usually takes 12-24 hours for Honeybook to send me a confirmation email saying they've paid. This is (I don't use this word often) absurd. With Quickbooks, I know payment confirmation comes in within 10 minutes.
Especially if I am going to start work with a client right as they pay, this hurdle in their platform stops me from getting to work right away.
It usually leads to me emailing my customer "Did you pay the invoice?" then them replying "I did!" then me looking into Honeybook wondering why the heck it hasn't come in and making me look foolish to my client... Then I finally get the notification the next day.
It's the #1 feature request they need to get updated.
Razones para cambiar a HoneyBook
Because they have online scheduling, and pre-built proposals/service agreements to use. More of an all-in-one platform.
Sector: Diseño gráfico
Tamaño de la empresa: Trabajador autónomo
Software usado

A diario

durante

1-5 meses

Fuente de la opinión
Relación calidad-precio
5
---
Honeybook is a game-changer for Service Oriented Small-Businesses
The biggest problem that I've struggled with since launching my business is obtaining payment in a timely fashion. Honeybook totally fixed that problem for me. I don't have to give a laundry-list of payment methods or pay for additional payment services, wait around for physical checks, or process e-checks. My customers just plop in their card information and then it hits my bank account.
SO. NICE.
Puntos a favor
Honeybook took my booking process to a massively higher level of success. My contracts are all signed, and invoices are paid before I even start designing. I walk my customers through the process and we discuss TAT and rates, next steps, and then I kick them over the Proposal with the same details we discussed during the sale.
With other software I've struggled to receive timely payments, or contract signatures.
Not anymore!
Desventajas
The contract templates are pretty limited to social media management and marketing ops. I think that every business needs their own contracts, period, but it would be nice to have a better starting place for other service providers.
Additionally, the emails that Honeybook kicks out for proposals, payments, contracts and the like have reportedly found their way to many of my customer's spam box. I just warn them ahead of time, but it's not super reassuring to some more leery customers.