Sobre N-central
N-able N-central® is an IT management solution that enables organizations to manage and track IT devices. The solution comes with key features that include patch management, antivirus protection, backup and disaster recovery. The patch management feature enables organizations to automate patching and reduce vulnerabilities. Further, the solution enables managers to track and fill gaps in networks. The solution allows IT executives to create database backups. The solution is suitable for businesses of all sizes and can be deployed both on-premise and in the cloud. N-able N-central® allows users to protect email communication and encrypt confidential documents. The solution offers scripting language to automate manual tasks. Support is provided via an online portal, email and phone. Further, the solution offers Android and iOS-compatible mobile applications.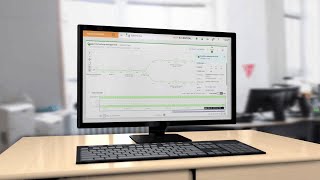 N-central no tiene versión gratuita, pero ofrece una prueba gratis.
Sector: Construcción
Tamaño de la empresa: 51-200 empleados
Software usado

A diario

durante

6-12 meses

Fuente de la opinión
Relación calidad-precio
4
---
IT engineer review
Has helped me immensly as an IT engineer and allowed me to maintain and improve my environment
Puntos a favor
Great control of an entire network. easy RDP tools and detailed stats. Great customised reports.big fan of the product as a whole and many functions to use within an IT industry
Desventajas
difficult to implement at first. the support is good but i would like a more interactive support like calling in as the IM is abit tedious. the patch management needs to be simplified abit more. license compliance report is extremely confusing. Just an overall easier UI. Would be nice if you could integrate live graph monitoring to drill down into devices and IPs over a firewall etc. essentially you do have the NPM but that needs to be intergrated in nCentral then i would procure it. thus we can have a monitoring team and throw it on the screen. right now the alerts from SNMP is great but is difficult to drill into and shut down rogue devices etc
Sector: Tecnología y servicios de la información
Tamaño de la empresa: 11-50 empleados
Software usado

A diario

durante

Más de dos años

Fuente de la opinión
Relación calidad-precio
5
---
Powerful RMM Tool, Reporting Can Be Improved
Overall, we have been very happy with the product. It does require some investment in configuration, but that investment allows for a very powerful product. I have been extremely impressed with N-Central management's willingness to help ensure our deployment is successful.
Puntos a favor
N-Central is very powerful and customizable. Configuration is very granular and allows experienced administrators to configure almost limitless monitoring. N-Central staff has gone above and beyond what was expected to make sure our deployment is successful.
Desventajas
Reporting could be improved. The reporting interface is very basic and requires a separate Microsoft Windows SQL server to use. From speaking with contacts at N-Central, this system is planned to be replaced in the very near future.
Razones para elegir N-central
After being sold to a venture capital firm, Kaseya support had been lacking. Additionally, the product improvements began to suffer at that time.
Razones para cambiar a N-central
N-Central proved to be a much more customizable product than Automate. Our previous experience with ConnectWise support led to skepticism about the level of support that would be provided.
Sector: Seguridad informática y de redes
Tamaño de la empresa: 2-10 empleados
Software usado

A diario

durante

Más de dos años

Fuente de la opinión
Relación calidad-precio
1
---
Covid-19 - reduction of services applied after 5 years during a pandemic.
Over all they are very good at taking your money and over the years have been hard to communicate with. It's all sales sales sales.
Puntos a favor
Over the years this software has been hit and miss, we would spend a lot of time trying to get errors fixed. It was getting better, they also keep changing the sales rep that deals with me. When they call they talk about a different business and advise the customers name and customer to me. It's happened twice!
Desventajas
The biggest thing I didn't like was when they removed remote control from my essential Licence's. To make it worse it was done over the covid-19 pandemic. they are asking me to buy Licence's and I have refused. We are social distancing and this has made it stressful for myself and my customers.
Respuesta de

SolarWinds MSP

Hi Phillip, I'm very sorry that you are unhappy. Our decision to remove remote control from N-central Essentials licenses was made months before the COVID-19 outbreak. We believe Professional N-central licenses provide the proper remote monitoring and management capability that workstations and servers require.

We understand that remote work and therefore remote control is very important for you right now. Therefore, we have offered SolarWinds Take Control Plus, a standalone remote support solution, free of charge for 90 days. In addition, for a limited time, Take Control Plus licenses also come with 25 additional end-user accounts (for a total of 35) for partners to extend to employees and clients. Simply complete this form before June 30, 2020
https://www.solarwindsmsp.com/products/take-control/trial

You may also be interested in these resources to help you navigate this unprecedented time: www.solarwindsmsp.com/covid-19-resources

Be well. - Shelley O'Brien, N-central PMM

Respondido el 13/5/2020
Sector: Tecnología y servicios de la información
Tamaño de la empresa: 11-50 empleados
Software usado

A diario

durante

Más de dos años

Fuente de la opinión
Relación calidad-precio
3
---
It works well most of the time, however...
SolarWinds is turning into a VERY large company. This is great as they get the cash flow to perform R&D and bring some interesting products and tools to the table, HOWEVER, this means they are reaching the point where one hand is not talking to another, products are becoming "designed by committee" and other issues that can be resolved with improved internal communication.
Puntos a favor
Working for an MSP this is a very feature-rich product for remote control, remote monitoring, deploying and monitoring Anti-Virus, and some backup features (However I DO NOT recommenced the ArcServe-based product.)
Desventajas
-Support has been very hit or miss and lately they have fallen into the "Miss" category
-We had an issue where monitored services of a device were disappearing. After opening a ticket with SolarWinds support they informed me that the software cannot properly track how/why these services were disappearing from devices. This lead to at least 2 events where monitored hard drives were not longer being monitored, we were not made aware of it, the drives filled up, and services crashed
-Product names keep being changed and we are not immediately made aware of it.
Sector: Tecnología y servicios de la información
Tamaño de la empresa: 11-50 empleados
Software usado

A diario

durante

Más de dos años

Fuente de la opinión
Relación calidad-precio
2
---
N-central is very useful for managing a large amount of Customer PCs
For the most part N-central helps me greatly in managing, backing up, and remotely logging into client PCs. if a few little kinks were ironed out of the system and previously mentioned patch management issue were resolved I would have no complaints at all. The on-boarding and setup process could possibly be made a little simpler with a default setup / template but that may be something that other users would not want depending on their configuration.
Puntos a favor
N-central makes it easy to deploy a "probe" to one server on a domain and then with the correct credintials deploy the client to all of the rest of the domain connected PCs automatically(scary virus like automatically).
Desventajas
I hate that every time I get all of the patches approved and working in the n-central patch management it seems i come back a week-month later and they have made an update that breaks the patch management and i am getting warnings that patches are not installing. If the patch management had default patch all / patch important things only profiles that worked 100% of the time i would be very satisfied with N-Central.