Sobre Katana Manufacturing ERP
Katana Manufacturing ERP gives you a live look at all the moving parts of your business — sales, inventory, and beyond. Combining a visual interface and smart real-time master planner, Katana makes managing inventory and manufacturing intuitive while connecting to all the services you know and love.
Real-time master planning — Katana automatically follows the stock movements across the production cycle and in multiple warehouses to help you maintain optimal inventory levels. You can also build BOMs and product recipes to manage materials and keep an eye on availability for your make-to-order workflows or fulfill the order from available product stock.
Live inventory management and full traceability — Prioritize orders in Katana and track the availability of raw materials and finished goods in real-time. Features like batch or lot tracking ensure end-to-end traceability of materials and products from production to post-sale. Quickly identify products and materials and keep track of materials and batch numbers when receiving, consuming, or counting goods.
Total shop floor control — Receive real-time manufacturing insights in Katana's Shop Floor App. Easily create, set up, and remove shop floor operators while tracking manufacturing costs based on product recipes and production operations.
Integrations and open API — Katana connects to popular e-commerce, accounting, CRM, and reporting service providers such as Shopify, eBay, Amazon, WooCommerce, BigCommerce, Xero, and QuickBooks Online to streamline your operations. You can also set up custom workflows with Katana's open API or connect to hundreds of third-party integrations via Make and Zapier.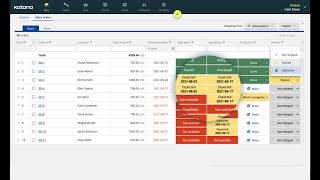 Precios de Katana Manufacturing ERP
Katana Manufacturing ERP no tiene versión gratuita, pero ofrece una prueba gratis. La versión de pago de Katana Manufacturing ERP está disponible a partir de 99,00 US$/mes.
Precio inicial:
99,00 US$/mes
Alternativas a Katana Manufacturing ERP
Opiniones de Katana Manufacturing ERP
Sector: Almacenamiento
Tamaño de la empresa: 2-10 empleados
Software usado

A diario

durante

Más de un año

Fuente de la opinión
Relación calidad-precio
5
---
The best for small manufacturing
Puntos a favor
KatanaMRP has really helped me know what to order, and when to order it, as well as plan what comes next in manufacturing. It even lets me add time to tasks in production so I can monetarily make sure employees are being efficient enough for my company to remain profitable.
Definitely recommend. I wish I would have found them sooner.
Desventajas
Sometimes the app logs me out and I have to put the information in twice.
Razones para elegir Katana Manufacturing ERP
ease of use and training of users
Respuesta de

Katana MRP

Thank you for the feedback and support!

Respondido el 2/6/2020
Sector: Producción de alimentos
Tamaño de la empresa: 2-10 empleados
Software usado

A diario

durante

6-12 meses

Fuente de la opinión
Relación calidad-precio
5
---
The MRP system I wish I'd always had
Katana's awesome, full stop.
I've been working with manufacturing businesses for years, and for years I've lamented Xero's relatively weak inventory management system. Two years ago I tried literally every MRP app I could find to plugin to Xero; they were all pretty bad.
Along comes Katana, which maybe was around earlier but was "new to me" just this year, and ... wow. Mostly, it Just Works. The Xero integration works seamlessly for bills and sales orders, which speeds AP/AR quite a bit. 90% of the tool's value is outside of Xero though, and I now have a permanently-pinned Katana tab in my browser for tracking everything in the production flow from raw materials purchasing, to production, to sale, to reconciliation of remaining materials and product stock. It's great.
Is it perfect? Not quite. They need to do some performance work, as load times are often a little sluggish. Also, it would be nice to see finer-grained automation, and better contact syncing. But overall, I'm delighted.
Puntos a favor
- It's really easy to use
- Makes it easy to track materials on hand, reorder, etc
- Calculates margin including labor cost
- Xero integration works perfectly
- Zapier integration makes it really flexible from an automation standpoint
- Really lots of other stuff ... it's truly an excellent product and an outlier in a pretty clunky space.
Desventajas
It can be a little slow, and the contact syncing could be more robust.
Razones para cambiar a Katana Manufacturing ERP
It's easier to use, it's priced right, and it gives you what you need without a bunch of stuff you don't. Perfectly tailored for SMB/SME manufacturers.
Sector: Transporte/transporte en camión/ferrocarril
Tamaño de la empresa: 2-10 empleados
Software usado

Semanalmente

durante

1-5 meses

Fuente de la opinión
Relación calidad-precio
1
---
Promised so much delivered far short of what we hoped
Disappointed. They are pretending this software is the best thing since sliced bread and its more like a stale baguette.
Puntos a favor
It works on a basic level for stock management and also bills of materials.
Desventajas
It fails to have any sort of calender or gantt chart. It also fails terribly with time planning/recording of how long a task can take. For example you can't even put into the system that you start your working day at half past the hour only full hours are allowed. Further to the time planning side you can not block out time for holidays or meetings. Making this software useless to plan your time and give acreate lead times to customers.
Razones para elegir Katana Manufacturing ERP
In the middle of the switch but it seams to offer far more options and cross capability.
Respuesta de

Katana MRP

Hi Daniel! Thank you for your honest feedback. We are continuously working on improving on the points of time planning and will be ready with better capabilities in the coming months already.

Respondido el 9/3/2022
Sector: Alimentación y bebidas
Tamaño de la empresa: 2-10 empleados
Software usado

A diario

durante

1-5 meses

Fuente de la opinión
Relación calidad-precio
4
---
Intuitive, Fast To Implement, and Beautifully Designed
Puntos a favor
The user interface is clean and very intuitive, requiring essentially no time to learn. Some of the other MRP solutions we tried were difficult to navigate and use, and training on them would have been labor intensive and costly. Katana is beautifully designed, and the batch-tracking and inventory management is easy to adapt to our business (MRPeasy/ERPAG were very clearly not designed with food manufacturing in mind, so making them even remotely functional for that purpose felt like a bit of a fools errand, whereas Katana just works).
Desventajas
While it is very user-friendly and it has the ability to track batches/lots (which is critical for us), we've had to develop workarounds to make it function the way we need it to -- it doesn't quite handle this the way I would envision it should. There are also some minor time wasters. If there's one simple feature I wish they would change, it's being able to type in the expiration dates rather than having to scroll through the calendar manually to select the correct date. This becomes so onerous when receiving multiple items on a PO and having to manually click through/scroll through the calendar to select the correct date as opposed to simply having a field that allows you to type in the date and move on.
Razones para cambiar a Katana Manufacturing ERP
Katana is a great small business solution that I can easily see growing with us. Fishbowl is cost-prohibitive (and honestly at this point, I'd rather just use Katana). MRPeasy and ERPAG are not as well designed and don't work well as a food industry solution -- they made simple tasks feel like running through a maze. The developers at Katana did a beautiful job of creating something intuitively designed that works well across multiple industries while also making it as clean and aesthetic as it is functional. It's a pleasure to use. I've noticed that they also seem to be regularly implementing improvements and updates, which is awesome. Customer support is friendly and responsive. Highly recommend.
Sector: Energías renovables y medio ambiente
Tamaño de la empresa: 2-10 empleados
Software usado

A diario

durante

6-12 meses

Fuente de la opinión
Relación calidad-precio
5
---
Most affordable MRP system for small manufacturers
Katana has been extremely responsive with receiving feedback on the product and working in product improvements based on that feedback. There have already been multiple issues I had with the product early on that they have reacted to feedback on and implemented changes. Great customer service.
Puntos a favor
I love the value. We were stuck using excel to manage our inventory for a long time because there were no affordable options until Katana came along. I am able to maintain accurate stock levels much more easily now.
Desventajas
There are a few minor inconveniences that are small time wasters. One example is not being able to shift/ctrl click multiple items and drag them around as a group when reorganizing priority rank of manufacturing orders. Since we have multilevel subassemblies I spend more time dragging around manufacturing orders to organize the order I want them completed in and I could save some time if I could drag items around as a group.
Respuesta de

Katana MRP

Chris, thank you for sharing your experience with Katana!

Respondido el 10/9/2019