Sobre Rentman
Rentman es un software de planificación y gestión de recursos basado en la nube que ayuda a las empresas AV & de Eventos a gestionar sus operaciones diarias y mejorar sus flujos de trabajo. Las características clave que ofrecemos incluyen el Planificador de inventario, el Sistema de inventarios QR, el Planificador de personal y el Sistema de cotización y finanzas. Con el Planificador de inventario puedes planificar tus equipos de manera eficiente. Realiza un seguimiento visual de los niveles de existencias de equipos y su ubicación en cualquier momento. Siempre ten presente cuántos artículos están disponibles utilizando la vista de línea de tiempo y reserva tus equipos para eventos en unos pocos clics. Además, puedes planificar y gestionar el mantenimiento y las reparaciones de los equipos. Resuelve fácilmente la escasez mediante la creación de solicitudes de subalquiler. El complemento adicional Sistema de inventarios QR te permite escanear códigos de barras y QR, por lo que puedes rastrear tus equipos con ayuda de los números de serie. Crea listas de empaque virtuales o impresas para asegurarte de que el equipo salga completo. Con el Planificador de personal puedes planificar a tu personal de manera eficiente. Automatiza las tareas que consumen mucho tiempo, como el envío de invitaciones de trabajo. Comparte archivos, documentos e instrucciones de trabajo para asegurarte de que los miembros de tu personal estén al tanto en todo momento. Con nuestra vista de línea de tiempo, puedes ver fácilmente qué miembro del personal está disponible y asignar a la mejor persona para el trabajo. Los miembros del equipo pueden indicar su disponibilidad para que siempre sepas quién está disponible. Registra las horas trabajadas, gestiona las vacaciones y ten una visión general de los costos con nuestro módulo de registro del tiempo. Puedes acceder a Rentman a través de varios dispositivos, como computadoras de escritorio, tabletas y teléfonos móviles. El acceso a través de nuestra aplicación móvil está incluido. Rentman ofrece una estructura de precios flexible, por lo que solo tienes que pagar por los productos y complementos que necesitas. El software se ofrece mediante una suscripción mensual que incluye soporte por teléfono, correo electrónico, preguntas frecuentes y un centro de soporte en línea.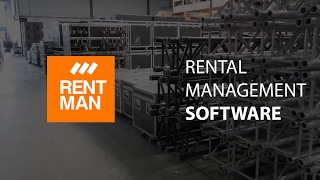 Rentman no tiene versión gratuita, pero ofrece una prueba gratis. La versión de pago de Rentman está disponible a partir de 48,00 €/mes.
Sector: Organización de eventos
Tamaño de la empresa: 2-10 empleados
Software usado

A diario

durante

Más de un año

Fuente de la opinión
Relación calidad-precio
5
---
Easy to setup with great support.
Puntos a favor
The integration of invoicing and inventory management is the best of the software we have used, and the customization of document templates allows us to provide our clients with professional documents with exactly the right amount of information.
Desventajas
There are some features that need work on kit and case building but with that said the rentman team are continually listening to the end user and implementing requests.
Sector: Organización de eventos
Tamaño de la empresa: 2-10 empleados
Software usado

A diario

durante

Más de un año

Fuente de la opinión
Relación calidad-precio
4
---
A great (nearly) all in one solution for the event industry. Better then the competition!
I used to use Current RMS, however, I moved to Rentman as it has a better system and backbone.
It makes more sense with the layouts and with time can become a powerful tool for the business.
I've had this for about 1-2 years and still learning new things, but as a small company, it's not been a quick setup.
I do however love the support that Rentman offer and they are always listening and improving, which is why I 100% recommend Rentman. They are working on this product for us and the changes are always coming in.
I love using Rentman and seeing the bugs corrected and fixed as it gets better and better.
Puntos a favor
- Great customer support. Very quick and helpful.
-Easy flowing steps for creating projects. Very powerful.
-Can create nice documents....(just need alot of time).
-Always moving forward company and listening to the users for the direction they will take.
Desventajas
-Hard and slow learning curve.
-The interface looks a little dated, needs a modern refresh.
-Still has many bugs, from language bugs to just things that don't work as smoothly as I would hope.
-CRM is lacking and needs a bit more work.
-Would be great to see short "how to" videos of tips and tricks.
Alternativas consideradas
Flex
Razones para elegir Rentman
Current RMS was just not very nice to setup projects, you always have to jump from page to page, where as Rentman you can work all within one page easy.
Razones para cambiar a Rentman
The support is amazing. It's features are getting built and released very quickly. It's by far the most powerful out of the products and software I've looked at.
Sector: Películas y largometrajes
Tamaño de la empresa: 2-10 empleados
Software usado

A diario

durante

Más de un año

Fuente de la opinión
Relación calidad-precio
4
---
A rental house's most powerful tool
We have really liked using Rentman and it has definitely helped our company to maintain the upper hand on competitors by ensuring that we have the right equipment available when our clients come to pickup.
Puntos a favor
Probably the most powerful part of the software is how it handles projects. Being able to create a single project that spans any amount of time, and then to have sub-projects inside of that and schedule different events/equipment/crew at different times throughout the project is great. That along with scheduling of equipment and how it handles conflicts and sub-rentals makes it a great tool for any rental house.
Desventajas
The majority of the issues we face are pretty minor. We've been able to find work arounds to features that are not currently in the software like Vendors/Consignment equipment. We would like to see more work put into the API and project request system as well as improvements in adding equipment to a project.
Sector: Entretenimiento
Tamaño de la empresa: 11-50 empleados
Software usado

A diario

durante

1-5 meses

Fuente de la opinión
Relación calidad-precio
4
---
Rentman Review JPS
Its okey. still in a prosses of getting used to. Love the software a little bit more eveytime i use it. but i still miss some fucntions that i was used to. We have a great comunucation with support and they are doing a great job.
Puntos a favor
The layout and Design. Easy to start working with, without a class og introduction.
The feature on how to book crew and give them the infomation and share files needed to complete a production is good.
Desventajas
I miss la log function. to see what user how was the last to edit a project or an item. i would like the ¨Send Planning Fucntion¨to connect to my work Email so that it dosent go into trashbox and people miss out on the information given. I would like to see more widget´s and maby create my own som that i would have more use of the dashboard fucntion. That feature is a good ide but i would like it to be more personal. And give a bigger function during my working day. if that dosent happen Dashboard is useless.
Respuesta de

Rentman

Hello John Patrick! We appreciate you taking the time to write your review. It's great to hear, that you enjoy our options and have an easy time using Rentman!
Regarding your feedback on the log function we can confirm, that this is already something we are diligently working on enabling for our clients and it should soon be available. We have also already received a great deal of feedback in regards to the dashboard functions and options, so we would like to invite you to share your feedback directly with us.

Please contact our support via email at [email protected] with some details on this matter, as well as on the issue with the sending of your planning, so we can explore our options on the dashboard with you and help fill in any potential gaps.

We hope for a great continuous relationship with you and wish you all the best!

Your Rentman Team

Respondido el 7/7/2021
Sector: Entretenimiento
Tamaño de la empresa: 11-50 empleados
Software usado

A diario

durante

Más de dos años

Fuente de la opinión
Relación calidad-precio
4
---
Great Software with Active Development Team
It's been great, it helped us improve our efficiency and organization as well as increased the speed of our quoting process.
Puntos a favor
It is fresh, modern and always getting updates. The search capabilities are great and its pretty easy to use.
Desventajas
The cost increases might price us out of it as it starts to be less competitive with the other options that are out there.
Alternativas consideradas
Flex
Razones para elegir Rentman
We wanted a modern software that was cloud based, highly searchable, easy to use and maintain.
Razones para cambiar a Rentman
The price was better and it appeared that they were developing their product more rapidly.