Sobre 3CX
3CX es una solución PBX basada en software con una opción hospedada en la nube, ofreciendo a usuarios conferencias web, integración CRM, chat en vivo, mensajería instantánea, y apps móviles. 3CX incluye un softphone para Windows, permitiendo a usuarios hacer y recibir llamadas a través de su computadora, eliminando la necesidad de usar hardware telefónico y permitiendo el trabajo fuera de la oficina. Un switchboard multi-vista incorporado permite a los usuarios administrar llamadas entrantes, ver la disponibilidad de los compañeros, y arrastrar-y-soltar llamadas para transferir. Con la integración de CRM, los usuarios pueden hacer llamadas en un solo clic desde su software CRM, y la información de sus clientes aparecerá como un pop-up en la llamada entrante. El identificador de llamada se utiliza para identificar a los clientes y automáticamente registrar las llamadas en los registros del cliente, sin tener que hacerlo manualmente. El smartphone para clientes 3CX para iOS y Android permite a los usuarios hacer y recibir llamadas con 3G o WiFi, y cada uno incluye un túnel SIP incorporado para evitar problemas con firewalls remotos. Las llamadas entrantes y mensajes activan notificaciones push, permitiendo a los teléfonos permanecer en espera para reducir el consumo de batería. Los usuarios pueden actualizar su estado de disponibilidad desde la app, y ver el de sus compañeros. Desde la App móvil 3CX, los usuarios pueden hacer y recibir llamadas desde su teléfono móvil sin necesidad de dar su número personal. 3CX ofrece a los usuarios conferencias web sin necesidad de descargar software adicional o plugins, ya que toda la comunicación de voz y video está basada en un navegador web. Las videoconferencias son gratuitas hasta 25 participantes, sin licencia por usuario o límite en el número de cuentas de usuario, y el precio está basado en el número de participantes por llamada. También incluye las herramientas para trabajar en remoto, asistencia, y recopilación de Feedback.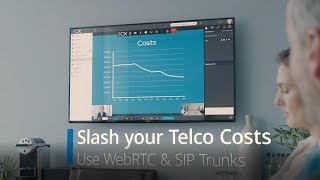 3CX dispone de una versión gratuita y ofrece una prueba gratis. La versión de pago de 3CX está disponible a partir de 285,00 US$/mes.
Precio inicial:
285,00 US$/mes
Sector: Estudios de mercado
Tamaño de la empresa: 51-200 empleados
Software usado

A diario

durante

Más de dos años

Fuente de la opinión
Relación calidad-precio
5
---
Es el mejor sistema de gestión de llamadas que he conocido
Generalmente lo uso para hablar con clientes, proveedores y con muchos de mis contactos de trabajo y pues se ha vuelto una herramienta totalmente fundamental
Puntos a favor
Dentro la empresa que trabajo 3CX siempre ha sido la herramienta de trabajo principal para los agentes, además, los mandos medios atendemos nuestras llamadas con él y realmente me parece muy fácil de usar, precisamente es lo mejor de todo.
Desventajas
No le encuentro ningún contra aunque me gustaría poder modificar mi tono, recibo muchas llamadas al día y a veces me resulta un poco molesto.
Respuesta de

3CX

Hi there. Thank you for sharing your experience with us. We are glad to hear that 3CX has become a fundamental tool for your day-to-day business.

Respondido el 18/10/2021
Sector: Telecomunicaciones
Tamaño de la empresa: 5.001-10.000 empleados
Software usado

A diario

durante

Más de dos años

Fuente de la opinión
Relación calidad-precio
0
---
One of the best Voip softwares
Puntos a favor
light app that can let you move your softphone anywhere
Desventajas
It takes alot of time to configure for the first time
Respuesta de

3CX

Hi Hussein and thank you for the 5-star review!

Respondido el 3/8/2022
Sector: Logística y cadena de suministro
Tamaño de la empresa: 11-50 empleados
Software usado

A diario

durante

Más de un año

Fuente de la opinión
Relación calidad-precio
3
---
3CX is fine, but it is all about who handles the hosting
3CX feels like it is a step up from a normal landline, but I don't see any wow factors that I feel like I could get from some of the other VoIP names.
If you're looking for something less expensive than Ring Central, Phone.com, and OnSip, then you should be able to find a small VoIP provider willing to offer you a hosted package with 3CX for a lower price.
Puntos a favor
3CX is straightforward. It seems to have all the necessary features for a small business. Still, as a business owner who cannot work on the admin side, I can only comment on the usability and stability.
Compared to other softphone apps, I've never had significant issues. I use 3CX as a softphone on an iPhone, through a Yealink desk phone, via Chrome plugin, and on an iPad. Surprisingly, the limitations I see are not due to the daily functions.
There are some features I would like, but there is nothing about this app that hinders my company's ability to operate without delay. We have users in China, Thailand, the Philippines, Jamacia, Venezuela, and the US. All locations work well, and the apps work even with limited internet access.
There are times when the connection is not great, but this is usually due to the internet and not the apps.
Desventajas
There is no way for my ringer on my softphone or desk phone to be customized to ring differently when someone calls my extension vs. ring group. I wish there were connectivity with Zapier so that I could push contacts from other services into our address book.
It would be nice if the SMS chat feature worked more similarly to a shared inbox, where everyone could see it. You can only transfer the chat to another extension, which makes SMS hard to use as a group.
Overall, the cons are not about the ability to use 3CX but the features I wish it had that could provide a better overall experience.
Respuesta de

3CX

Hi Sam and thank you for your review! We are glad to hear that you are enjoying using our software and that it has helped you stay in touch with your employees throughout the world!
Regarding the points you raised, desk phones can be configured to have distinctive ringtones for Queue Calls, so you should certainly consider switching to using Queues instead of Ring Groups. Apart from this, you would also get better reporting capabilities and a lot more polling strategies to choose from.
For syncing you phonebook contacts, we do currently offer integration with Microsoft 365, but in the coming updates we will have a REST API that may also allow you to interact with the 3CX Phonebook, giving you the maximum flexibility in syncing your contacts between various platforms.
Incoming SMS messages can be sent either to an Individual Extension or to a Queue, in which case all logged in members of that Queue will see incoming messages.

Respondido el 1/6/2022
Sector: Contabilidad
Tamaño de la empresa: 11-50 empleados
Software usado

A diario

durante

Más de dos años

Fuente de la opinión
Relación calidad-precio
0
---
Easy to use
Puntos a favor
The software is easily maneuvered, the calls are made once dialled out and the software gets updated frequently. The calls are recorded and recording produce in approximately and hour after completed. You can easily tap in and monitor a call that an agent is on as well as it provides a chat feature.
Desventajas
What i liked least about this feature is that there was an issue when you log break there is no way of monitoring how long you were logged for. Unless it's done by the master controller 3cx.
Respuesta de

3CX

Hi Tialee. Thank you so much for the 5-star review! We are super glad to hear 3CX provided you with the flexibility and cost-efficiency to help your business.

Respondido el 22/8/2022
Sector: Telecomunicaciones
Tamaño de la empresa: 11-50 empleados
Software usado

Semanalmente

durante

Más de dos años

Fuente de la opinión
Relación calidad-precio
2
---
Effective Phone System For Small, Simple Offices
For under 50 extensions and without any special functionality, 3CX is a very user-friendly platform. However, for any project that requires any custom functionality, 3CX will simply not be able to offer help.
Puntos a favor
The 3CX installer on both Linux and Windows is incredibly easy to use and users can go from nothing to a fully-featured phone system in less than 20 minutes. Once installed, the user interface is very clean and straightforward.
The 3CX Softphone that can be installed on Windows and mac computers pairs effortlessly with 3CX provisioning files.
Desventajas
3CX offers very little customization outside of the user interface, and commonly phone system managers will be simply unable to perform more-complex call routing. As an example, dynamic outbound routes are simply not possible outside of the overly-simple Outbound Routes tab, and you are limited to only prefix, length of destination, and from extension.
Compared to FreePBX and FusionPBX, the ability to customize 3CX is almost non-existent.
3CX Support will 100% of the time deflect any technical issues to the carrier, and after numerous ticket responses later, they will finally admit to being able to help.
SIP SRV records are completely broken and not compliant with the SIP RFC. It's hilarious how catastrophic this lack of functionality is.
Faxing is completely broken. It will be a complete nightmare if you attempt to run T.38 faxing over a 3CX phone system.