Sobre Paylocity
Paylocity is a cloud-based human capital management (HCM) platform that provides human resources and payroll management tools to help businesses manage core HR functions. Key features include payroll processing, benefits administration, time management, talent management, employee engagement, an integrated applicant tracking system (ATS) and data insights. Paylocity's payroll module allows businesses to simplify payroll operations, automate processes, and stay tax compliant. With expense management, payroll administrators can eliminate spreadsheets and payroll calculators by automatically pulling expenses into Paylocity. With the pre-process register, users can preview, correct and verify employee paychecks before processing payroll. Businesses can also utilize Paylocity's payroll service to manage tax filings and wage garnishments. Paylocity's core HR enables businesses to manage HR functions using quick-edit templates, custom checklists, action forms, position management, and dynamic reporting.
What is Paylocity?
Paylocity is an all-in-one HR and payroll suite that provides modern workforce management solutions.

How do you use Paylocity?

With Paylocity's web application, users can access a unified HR and payroll dashboard with all employee details. A self-service portal allows employees to complete HR tasks, access pay information, and read company news.
Who uses Paylocity?
Paylocity is used by HR and payroll professionals in U.S. based businesses of any size across many industries including financial services, healthcare, manufacturing, education, and others.
How much does Paylocity cost?
Paylocity does not share pricing details publicly. Please contact Paylocity for information on starting price and available plans or tiers.
Does Paylocity have an app?
Yes, Paylocity has a mobile app (for iOS and Android) where employees can clock in/out, request time off, access pay info, and more.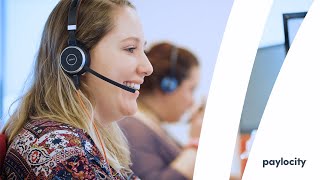 Paylocity no está disponible en versión gratuita y no ofrece prueba gratis.
Precio inicial:
Sin información del proveedor
Sector: Salud, bienestar y deporte
Tamaño de la empresa: 11-50 empleados
Software usado

A diario

durante

6-12 meses

Fuente de la opinión
Relación calidad-precio
0
---
Slow but thorough
Personablity and productivity were high on their good side and the overall flow and application of the app or desktop site were both high positives, and even though you had to wait 48 hours usually for a response, when you needed help you at least know they're reliable and responsible...even if they're not hasty.
Puntos a favor
This company had excellent rollout of the product into the work environment with the most amazing customer support I've ever received. Training and utilization were easy to understand and execute, with very little hiccups at all. Their app is colorful and keeps you very updated on your progress and profile management issues!
Desventajas
There wasn't an easy way to find answers to questions "fast", you would always get a personable and functional response to your questions from a real human who knew your name, but sometimes an immediate assist is more important than an overly communicative/thorough one.
Sector: Comercio minorista
Tamaño de la empresa: 11-50 empleados
Software usado

A diario

durante

Más de dos años

Fuente de la opinión
Relación calidad-precio
5
---
Great system that's flexible and I can pay for what I need
Puntos a favor
I love the interface and intuitive location of tabs. Finding what I need is easy and the search gets me answers to most questions without having to call tech support
Desventajas
I don't like that my account manager keeps changing, I understand turn over is high currently but it's much better to not have to "fill in" each person I call on whatever issue we were working on. There is currently a gap between what we can do remotely on the mobile app and what we can do in the browser based system. I need more functionality on the mobile devices.
Razones para cambiar a Paylocity
Their ability to give me what I need and not some giant package with things that cost me but I'll never use... Paychex was comparably priced but the company didn't seem like they would keep up with product development as well as Paylocity.
Sector: Seguros
Tamaño de la empresa: 51-200 empleados
Software usado

A diario

durante

6-12 meses

Fuente de la opinión
Relación calidad-precio
0
---
Easy to Make Mistakes
It is the integration of human resources and payroll.
Puntos a favor
The onboarding was difficult to use, both from the employer side and the new hire side. The program doesn't appear to be very intuitive.
Desventajas
Each task requires what seem to be unnecessary steps and too many keystrokes and tasks make it very easy to lose one's place and to make costly mistakes. Any time a mistake is made that requires Paylocity to make the correction costs an exorbitant amount of extra charges.
Sector: Propiedad inmobiliaria
Tamaño de la empresa: 201-500 empleados
Software usado

Semanalmente

durante

6-12 meses

Fuente de la opinión
Relación calidad-precio
4
---
Good product, terrible support
Our team has lots of experience migrating large systems from one software provider to another; while these projects are always nuanced and challenging, we've never experienced the lack of support and integrity that we experienced with Paylocity.
Puntos a favor
The product is both well designed and executed. While implementation and support have been another story, the product's functionality and ease of use have been enjoyed by both our administrators and users.
Desventajas
Unfortunately, our organization had an extremely poor implementation experience. Like many, our industry has some unique payroll tracking and reporting requirements; however, through numerous meetings, Paylocity's salespeople and implementation specialists ensured the product could handle these requirements out of the box. With consultation from Paylocity's team, we scheduled over three months to implement and test the product before going live for a stress-free experience. Unfortunately, our experience was the opposite of what was promised. In addition to breaking numerous commitments and being misadvised by our implementation specialist on multiple occasions, we were not re-assigned an implementation specialist for over a month, which pushed us past our "go-live" date.
Ultimately, we had to self-implement the product to a large degree. After seven months with the product, we are still waiting on promised fixes to multiple issues. We have tried for months to address these experiences and concerns with Paylocity's [SENSITIVE CONTENT] of Implementation Services and other higher-ups. Unfortunately, our e-mails go unanswered for weeks, and the short responses we receive don't address the topics we have raised.
Sector: Servicios de información
Tamaño de la empresa: 201-500 empleados
Software usado

A diario

durante

Más de dos años

Fuente de la opinión
Relación calidad-precio
4
---
Gets the job done
Puntos a favor
It has been a while since we switched over to Paylocity, and I suppose that speaks to how well it works, but I specifically remember the implementation process being very easy. For our purpose, mostly payroll, Paylocity works perfectly fine. It does not have the best user interface, but it works just fine. As a payroll administrator, you have a lot of autonomy to make changes as you need without having to call in.
Desventajas
Reporting can be a bit of a pain. They market their reporting system as easy and you can create any report you want from the fields that are in there, but creating a custom report is much harder than we thought. Many times, we find ourselves calling in to get the report that we need/want. And even then, if we export it to excel, it has so many spaces and gaps that it makes it difficult to play with. Their customer service can also be lacking. We rarely ever get our rep on the phone and they always take so long to get back to us when our issues are more complicated such as getting a W-2 corrected or amendments on tax returns.