Sobre Time Doctor
Time Doctor is a cloud-based time tracking and management solution used by businesses for monitoring workforce productivity. It offers tools for time tracking, web activity monitoring, payroll management and reporting. Time Doctor lets users enter time spent on each project and calculate their billable and nonbillable working hours. The screen monitoring feature reports on employee activity via screenshot captures. The solution can also help users to keep track of the time spent on chats, meetings, calls, internet usage and other activities. The payroll functionality allows businesses to record employee working hours and generate weekly and monthly payslips. A mobile app is available Android and iOS devices and the platform also integrates with various project management and accounting software including JIRA, Salesforce, Basecamp and Slack. The solution is available on a per user per month subscription basis and offers multilingual customer support via email, phone, live chat and online help desk.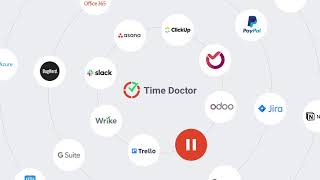 Time Doctor no tiene versión gratuita, pero ofrece una prueba gratis. La versión de pago de Time Doctor está disponible a partir de 7,00 US$/mes.
Precio inicial:
7,00 US$/mes
Detalles de precios:
Free 30-day trial Basic Plan - $7user/month Standard Plan - $10user/month Premium Plan - $20user/month
Alternativas a Time Doctor
Sector: Servicios para instalaciones
Tamaño de la empresa: 51-200 empleados
Software usado

Semanalmente

durante

Prueba gratis

Fuente de la opinión
Relación calidad-precio
5
---
Seguridad de la Información
.
Puntos a favor
Es un producto facil de usar y que tiene ya una reputacion ganada
Desventajas
Es un producto facil de usar y que tiene ya una reputacion ganada, asi que no tengo nada negativo
Sector: Tecnología y servicios de la información
Tamaño de la empresa: 2-10 empleados
Software usado

A diario

durante

1-5 meses

Fuente de la opinión
Relación calidad-precio
5
---
Uso del servicio
Es una herramienta que administra y organiza el tiempo de los colaboradores, con muy buenas métricas y que ayudan a mejorar la productividad de la empresa
Puntos a favor
El producto es fácil de usar, y controla todas las funciones y tareas de los colaboradores en tiempo real.
Desventajas
Sería útil un informe diario por persona, que indique el total de capturas de pantallas, cuántas fueron inactivas, y que además tenga métricas de la cantidad de pantallas que tienen poco movimiento de teclado y mouse. Adicional un informe de cuántas pantallas solo tienen movimiento de mouse sin tecleado
Sector: Ingeniería civil
Tamaño de la empresa: 11-50 empleados
Software usado

A diario

durante

1-5 meses

Fuente de la opinión
Relación calidad-precio
3
---
Aplicación muy buena
Una app muy buena, sin embargo existen dos time doctor y eso confunde, use time doctor 2 porque me dijeron que esa era mejor app
Puntos a favor
El apoyo para gestionar el tiempo de trabajo
Desventajas
El dashboard de la página, tenia ciertos errores por ejemplo para comparar tiempos pasados y actuales.
Sector: Producción audiovisual
Tamaño de la empresa: 201-500 empleados
Software usado

A diario

durante

Más de dos años

Fuente de la opinión
Relación calidad-precio
5
---
Cure For Time Wastage, Good For Productivity
Overall, Time Doctor is great for productivity, time tracking, and project management. It has the best Leave-Tracking features that send notifications if the person is still working on a task. In all reality, it has great usability with many different cool options such as time-tracking, browsing history, breaks, and idle time reminders, etc.
Puntos a favor
I have been an active member of PeoplePerHour for almost 4 years now and Time Doctor has been a great help for me. It has helped me track my time spent on various projects that I do on daily basis. I manage my workflow and pace by keeping an eye on Time Doctor and also get proof of my work hours to demand payment. I'm on the Desktop application most of the time but I do use a mobile application that helps me track the time when I'm traveling and working. It also gives an option to manually edit time and I used it sometimes when I spent time on the phone or forget to launch the application while working. The activity bar on the desktop is one important feature that I use and I love it.
Desventajas
I check for updates regularly and try to keep my software up-to-date. However, I noticed some mal-functioning when my Time Doctor didn't stop for the whole night and showed non-stop 13 hours of work. I had to reinstall the application to fix the trouble. The activity bar on the screen is sometimes pretty annoying as it doesn't go behind the apps. It always stays on top and blocks the view. There should be an option to resize it and push it behind as well. Other than that, I'm quite happy with the overall performance of the Time Doctor.
Sector: Diseño gráfico
Tamaño de la empresa: 11-50 empleados
Software usado

A diario

durante

Más de dos años

Fuente de la opinión
Relación calidad-precio
5
---
Best Time Tracking Software for In-House and Remote Employees
We at Fullstop360 are totally satisfied with the overall performance of Time Doctor. It is good for time-tracking, task-management, timesheets, poor time use, web & app usage, attendance, and payroll etc.
Puntos a favor
I have given Time Doctor 10 out of 10 as I simply love it. We have been using it for more than 4 years and it has proved to be a great tool to manage the in-house and remote employees. It is pretty convenient to install and work with. It allows to track time and improve productivity. It gives your complete control over your work. The effective reporting system helps you to figure out a better use of your time. It provides browsing history, top website, and poor management of time. In the capacity of an HR Manager, I use Time Doctor to mark employee attendance. You can check time-in and time-out and total work hours of your team members. It shares employee activity by sending screenshots. I also get help in managing the payroll. There's another cool option that TD allows to manually edit time. Sometimes, people forget to start Time Doctor and then approach me to adjust their times. In all reality, you can do a lot of cool things to manage your team and work.
Desventajas
The only con that I observed as a user is the 'display of activity bar'. It stays on top and sometimes becomes quite irritating. There's an option to hide it but the chances that sometimes you forget to turn Time Doctor on. Likewise, the breaktime monitor is a bit irritating. When you're busy in a though process and staring on your screen but you have not moved your mouse or touched the keyboard, Time Doctor will assume that you're gone for a break. I don't know how to fix it but it would be really cool if there's some sort of a sensor.