Sobre BQE CORE Suite
BQE CORE makes it easier and more profitable to run your business. It organizes information, automates repetitive tasks and allows your firm to spend more time providing service to your clients instead of managing internal processes. BQE CORE is an integrated Time and Expense Tracking, Project Management, Billing and Accounting solution that is scalable for businesses of all sizes. It is built by Architects, Engineers, and CPA's to meet the specific needs of professional services firms. It is packed with simple, powerful features designed to help firms bolster their cash flow by expediting their billing process, while dramatically improving their project management and their ability to analyze performance. Certified partnerships with Intuit, MYOB and other market leaders ensure that CORE intuitively extracts, customizes and delivers customized output from any third-party accounting software.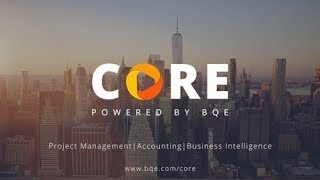 Precios de BQE CORE Suite
BQE CORE Suite no tiene versión gratuita, pero ofrece una prueba gratis. La versión de pago de BQE CORE Suite está disponible a partir de 29,00 US$/mes.
Precio inicial:
29,00 US$/mes
Detalles de precios:
Our pricing structure is simple, flexible and designed to fit your needs – you only pay for the features that you and your staff actually use. Annual and multi-year commitment options are available to support the unique needs of your firm. Start a FREE trial today to learn how CORE can maximize productivity and unlock your firm's true profitability potential.
Alternativas a BQE CORE Suite
Opiniones de BQE CORE Suite
Sector: Servicios jurídicos
Tamaño de la empresa: 11-50 empleados
Software usado

Semanalmente

durante

Más de dos años

Fuente de la opinión
Relación calidad-precio
5
---
Valuable software for billing at a law firm
Bill quick is a perfect solution to create invoices and be able to bill many different attorneys on different projects.
Puntos a favor
The ability to customize many of its features is great. You can setup and keep track of time associated
with various cases, clients, projects. There are so many reports that you can run to keep track of your spending. Able to export invoices to LEDES format. Able to import time from excel spreadsheet.
Desventajas
It takes some time to learn the software, the tech support team was great in getting me up and running. If you want additional reports they have a custom report group but their cost is a bit high to modify reports. It looks a bit complicated but actually it is easy to use.
Sector: Diseño
Tamaño de la empresa: 2-10 empleados
Software usado

A diario

durante

Más de dos años

Fuente de la opinión
Relación calidad-precio
4
---
Running a design practice, what they didn't teach you in architecture school
I check what other apps and services are out there for architects and most are even more overwhelming or offer more than needed for a small practice, or charge much more that it is worth.
Puntos a favor
Running a practice and staying financially solvent is key with a way to measure progress with tasks, time and fees. CORE does this and in a way architects can understand since it is designed by architects. However, it tries to cover all variations on running a firm and while appreciable, it can be confusing with too many choices to search and select from. The flexibility is a plus once you reach out to customer service (live24/7/365) and they kindly walk you through a solution.
Desventajas
It's a bit complex at the onset of setting up the account and projects. You do it often enough, it does become second nature but it takes time and includes some missteps readily corrected by the help system.
Sector: Construcción
Tamaño de la empresa: 11-50 empleados
Software usado

A diario

durante

1-5 meses

Fuente de la opinión
Relación calidad-precio
0
---
Quantity over Quality
Puntos a favor
It's not Quickbooks. Quickbooks is stuck in the early 2000s. CORE shows promise if usurping it with its variety of tools and analytical reporting methods. It also doesn't log off when I leave the site, which is annoying.
Desventajas
The overall user experience, at least for accounts payables, is deeply flawed. Save and Add Another shouldn't vanish when pressing "Save" when I want to just attach a PDF. I think CORE should take a glance at [SENSITIVE CONTENT] and figure out how to copy its features for payables. It's fantastic.
Oh, and no ACH implementation.
Sector: Investigación
Tamaño de la empresa: 2-10 empleados
Software usado

A diario

durante

Más de dos años

Fuente de la opinión
Relación calidad-precio
4
---
BQE CORE for small businesses
The technical team are superb and the (paid for) training essential to get you up to speed fast. The integration of time/expenses, project setup and control, invoicing and bill payments really good.
Puntos a favor
Time and expenses recording. Invoice creation. Financial planning and reporting.
Desventajas
The ability to customise reports is an additional costed service. It is really set up for USA and I had some tricky times making sure I reset up the currency. Also, you need to use 'Purchase Tax' for 'VAT' to make things work as you would expect.
Razones para cambiar a BQE CORE Suite
ONline tutorials and reviews.
Sector: Arquitectura y planificación
Tamaño de la empresa: 2-10 empleados
Software usado

A diario

durante

Más de dos años

Fuente de la opinión
Relación calidad-precio
4
---
Core is the core of our business
Our overall experience with Core has been very good. It is allowing us to run and manage our business far more effectively that before. Also the fact that it is web based has been awesome especially during pandemic work from home instances.
Puntos a favor
Project management and billing are our favorite features, we couldn't run our business without them. Core integrates really well with how we setup and manage a project.
Desventajas
The Allocation feature needs a lot of improvement. It feels like all the information we need is in Core but it is not easy to retrieve or maintain, specifically around dependencies between phases within a project.