Sobre HoneyBook
HoneyBook is a cloud-based customer relationship management (CRM) solution designed for small businesses. The solution helps users manage business processes from inquiry through to invoicing. HoneyBook lets users manage projects, book clients, sign contracts online, send invoices and handle payments. HoneyBook features task management that lets users view and track various stages of a project. Users can keep invoices, contracts and other documents in one place. Also, users can respond to clients with automated appointment requests and follow-ups using personalized templates and notifications. In addition, automated payment reminders can be sent and task reminders can be created based on the projects. HoneyBook integrates with tools such as QuickBooks, Calendly, Zapier, Gmail and Google Calendar. HoneyBook provides its services on a monthly subscription basis. The solution offers a mobile application for Android as well as iOS users and support is provided via email, an online help center, community forum and over the phone. For your first 6 months, get HoneyBook for $1 per month with code ONLY1.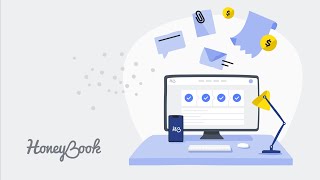 HoneyBook no tiene versión gratuita, pero ofrece una prueba gratis. La versión de pago de HoneyBook está disponible a partir de 39,00 US$/mes.
Precio inicial:
39,00 US$/mes
Sector: Propiedad inmobiliaria
Tamaño de la empresa: 51-200 empleados
Software usado

A diario

durante

Prueba gratis

Fuente de la opinión
Relación calidad-precio
0
---
Un crm básico de tener
Puntos a favor
Es fácil de usar, y su versión gratuita es bastante buena
Desventajas
Es un poco complicado el panel de actividades
Sector: Edición
Tamaño de la empresa: Trabajador autónomo
Software usado

A diario

durante

1-5 meses

Fuente de la opinión
Relación calidad-precio
4
---
Recomendado
Esta aplicación, brinda a los usuarios dos situaciones muy importantes para la calidad de vida de los emprendedores, uno es la organización y trasabilidad de la pequeña y median empresa, con sus clientes y proveedores. Y la segunda es tiempo de calidad para el emprendedor.
Puntos a favor
Es una aplicación que permite mantener los archivos organizados, brindado seguridad y confianza en el manejo documental.
Desventajas
Debería ser un poco mas asequible, el diseño de la pagina debería se mas amigable con el lector.
Sector: Servicios jurídicos
Tamaño de la empresa: 2-10 empleados
Software usado

A diario

durante

Más de dos años

Fuente de la opinión
Relación calidad-precio
5
---
The Best Client Management Resource-- goes beyond normal software
Before I used HoneyBook, I had tried several other client management platforms. All of them were clunky, and often I'd have to hunt around for things in the interest of the app developer's attention to folders and organization. What a mess! I'm so glad I switched to HoneyBook. They've consistently made product improvements and seem to really care about their customers. It gets easier and more fun to use every day, with just enough features to accomplish what I need without overwhelming me. I highly suggest this to anyone who is managing multiple clients, especially if you have client projects that tend to go dormant for awhile then pick back up.
Puntos a favor
I love how easy it is to use, and how amenable the HB team is to updating the software if you have a feature request or complaint. It provides very visual, easy user prompts that allow me to easily accomplish what I need in a fraction of the time of other software apps I've tried.
Desventajas
It's annoying that I can't delete the default emails that came with my account to replace them with my own workflow, so myself or a team member doesn't get confused with their suggested emails vs. the ones I actually want to use.
Respuesta de

HoneyBook

Christina, thank you for you being a HoneyBook member! We are so happy to hear that HB allows you to manage your clients in a fraction of time of other systems! Our Product Team works hard to consistently meet and exceed our members expectations. Thank you for the feedback on the default email templates. I will share with our team. Incase you didn't know, you can edit the default templates text and format to meet your needs.

Respondido el 23/9/2019
Sector: Entretenimiento
Tamaño de la empresa: Trabajador autónomo
Software usado

A diario

durante

Más de dos años

Fuente de la opinión
Relación calidad-precio
5
---
CRM Made Simple, Slick , and Seamless
HoneyBook truly helped me "level up" my business in nearly every area. The integrations, automation, templates, and payment processing systems all stand out both to me and my clients.
Puntos a favor
HoneyBook's "Pipeline" feature makes tracking inquiries, keeping up with contracting and following up after events nearly effortless. The power to automate these steps in the process while still being able to customize the automation allows me to keep my client interactions prompt, professional, and most importantly - personal. Email reminders keep me on top of my inbox, and templates turn once-tedious processes into a breeze. HoneyBook's client-facing side is deeply customizable and helps me maintain a professional aesthetic even when I'm drowning in the background.
Desventajas
HoneyBook shines for many industry professionals but isn't without a few details in need of improvement. Uploading files to customize templates can be difficult due to the restrictions placed on file types and sizes. Businesses with more non-traditional models may also find HoneyBook difficult to customize to meet their needs.
Sector: Salud, bienestar y deporte
Tamaño de la empresa: 2-10 empleados
Software usado

A diario

durante

1-5 meses

Fuente de la opinión
Relación calidad-precio
1
---
Buyer BEWARE! Poor Customer Service/Racial Inequality
Very insulting. I invested a lot of my time and energy into researching this software and felt it met the need I was trying to address for an additional division we are establishing with my company. An unsolicited internal situation occurred in which the staff at Honeybook was clearly at fault. As opposed to utilizing the philosophy of 'the customer is always right or even considering my point of view, they immediately justified the racist actions of their staff, confirmed she was following protocol, and terminated our relationship. I respect their right to do so, but I was completely blind-sided as EVERYTHING offensive was done TO ME by their internal staff. Also, the harsh, dismissive, condescending mannerism used towards me was so offensive it disrupted the rest of my day.
Puntos a favor
None. Their marketing campaign is not transparent. All customers are NOT treated equally.
Desventajas
Unfortunately, in almost 2023, this is one of the only companies in my professional experience I've ever experienced racial bias. They went out of their way to offend me and as a privately-owned company, I guess they have it as a right, but I think the diverse demographic should be aware prior to spending money with this company.