Sobre Kiwi for Gmail
Kiwi is an email management application for Mac and Windows PCs. It enables users to bring together all their Google Workspace applications. Once they are collated, it works as a standalone Google desktop package instead of multiple browser tabs. This desktop application merges multiple Google accounts and multiple applications together. It has all the capabilities of Gmail, Google Docs, Slides, Sheets, Calendar, and Keep. User accounts are grouped together, and inboxes are color-coded and displayed on a single menu. For managing several inboxes at once, users can set up focus-filtered inboxes. Kiwi provides a dashboard that combines all email messages, including starred, important, unread, even if different accounts have different filters. Users can access all their Google applications from the Gmail interface. Other features include the do not disturb toggle buttons and instant notification banners.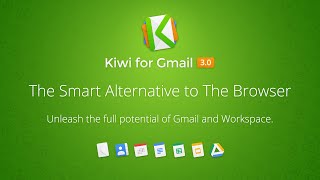 Precios de Kiwi for Gmail
Kiwi for Gmail dispone de una versión gratuita y ofrece una prueba gratis. La versión de pago de Kiwi for Gmail está disponible a partir de 2,75 US$/mes.
Precio inicial:
2,75 US$/mes
Alternativas a Kiwi for Gmail
Opiniones de Kiwi for Gmail
Sector: Tecnología y servicios de la información
Tamaño de la empresa: 501-1.000 empleados
Software usado

A diario

durante

Más de un año

Fuente de la opinión
Relación calidad-precio
5
---
"Awsome software for all Google products in one place"
It gives me the power to handle all my Gmail in one place.  My experience with Kiwi is great.  It helps me everything organized. Kiwi makes my life easy in many ways.  In beginning can try it for free. It's a very clean and easy interface.  Kiwi is a very reliable app. I recommend this to everyone.  It's very cost-effective too. It keeps me updated every time.  I like this because it saves me time. Kiwi is the best method to interact with all Google services.  Awesome software comes with excellent customer support.
Puntos a favor
I like the interface of this software.  It's very easy to use and helpful when needed to switch many emails. I can manage all Google programs in one place. The window feature is also great. Kiwi gives me the freedom to access all my emails at the same time without a browser.  They added Grammarly and Zoom features in the basic version. It's a good deal for me.  It gives me time freedom too. Very cost-effective and manage all Google and Google Workplace accounts easily.  Not only manage Google accounts but also gives the freedom to launch Google Slide,  Google Drive,  Google Docs, Google Sheets. I like the performance when switching between all services.  Notification and integration are also good. I like the colour theme because with the help of Kiwi can easily identify every account.  I can manage many accounts in one app.
Desventajas
It's a very fabulous app. I like this software.  I wish could be an app for iPad. there is some lag in a startup this is a minor thing. It doesn't come with more than 100 emails per view. Sometimes difficult to find unread emails. Sometimes it freezes and I have to exit and restart this.  Fans of dark mode disappoint sometimes.
Sector: Banca
Tamaño de la empresa: 201-500 empleados
Software usado

A diario

durante

Más de dos años

Fuente de la opinión
Relación calidad-precio
5
---
Perfectly functional free software
Perfectly fine. One thing I wish Kiwi might do is prompt the user that a new email has arrived by altering the icon in the taskbar. Overall, I quite enjoy the software.
Puntos a favor
It's simple and straightforward. It doesn't add any excessive functionality and is focused on just providing my Gmail as a program.
Desventajas
I often wish "pages" would open in either some form of tab or in the browser window. For example, opening a calendar link prompts a new Kiwi window. This means Kiwi now has multiple screens in my Windows taskbar making making switching back and forth somewhat cumbersome. Also, the new screen doesn't respect any size requirements I've provided to other windows. If it were to open in a browser, it'd automatically go full screen and respect my browser setup. If it were to open as a tab in Kiwi, it'd respect whatever size that is currently set to. As it is now, it just opens in some arbitrary size that I then have to enlarge and deal with as a seperate application.
Sector: Empleo y contratación
Tamaño de la empresa: 2-10 empleados
Software usado

A diario

durante

Más de un año

Fuente de la opinión
Relación calidad-precio
4
---
Great Concept but room for improvements
Overall I don't think I could work daily without it. My only gripe is the resource issues that come up from time to time.
Puntos a favor
The feature that I use the most is the multiple email accounts. I am constantly switching between them daily. The window popup feature is nice as well.
Desventajas
Performance issues. I have tried on multiple computers and seem to have the same issues in the end. I am in IT so I understand bloatware, memory, processors, etc. This could be the only application running and it would just eat up the processor and memory at times to a point where I have to wait to use it. It's not the computer this happens to every computer I use. I really need the capability to move between my email accounts daily so I just deal with it. I have found that when an update is released it usually works well for a bit then goes back to being a resource hog again. Some things that help is I would reboot weekly and see if it clears things up a bit.
Sector: Gestión de organizaciones sin ánimo de lucro
Tamaño de la empresa: 2-10 empleados
Software usado

A diario

durante

1-5 meses

Fuente de la opinión
Relación calidad-precio
5
---
So much easier than logging on to Google Workspace to get things done
We now have an easy way to access our Google Workspace products that all levels of tech experience can use.
Puntos a favor
What I like the most is that I have everything I use frequently right in one piece of software.
Desventajas
At this time, I do not know what I would say I like the least, I have not found anything yet.
Razones para cambiar a Kiwi for Gmail
I can use my shared Google Calendar with it without any hassle and it will sync bi-directionally
Sector: Administración educativa
Tamaño de la empresa: 5.001-10.000 empleados
Software usado

A diario

durante

Más de un año

Fuente de la opinión
Relación calidad-precio
5
---
Adds Functionality and Organization to My Work Email
Kiwi is a pleasure to use, effective, and powerful. It's been an always-open app on my computer.
Puntos a favor
It's very easy to add your email accounts in Kiwi and get started. I love having all my Google suite programs available in one place, especially my calendar and Google Docs. The focus features have also helped me stay on top of time-sensitive emails, emails with important documents, etc.
Desventajas
I wish that I could use the multiple inboxes/panels feature in Gmail to follow the Inbox Zero workflow to further manage my email organization.