Sobre Marketing 360
Marketing 360 is a cloud-based marketing platform suited for entrepreneurs as well as small and midsize businesses. This solution allows organizations to run social media advertising campaigns, conduct search engine optimization (SEO) programs and analyze digital marketing performance. Marketing 360's UXi websites feature helps users create web pages branded web pages that include call-to-action buttons. In addition, the system provides website templates that can be customized and edited with the help of drag-and-drop functionality. Marketing 360's Natural Listing Ads feature helps users manage organic search results by tracking keyword volume and ranking. In addition, it analyzes competitors' SEO performance with the same keywords and shares real-time reports providing organic conversion rates. The Social Targeting Ads let organizations to segment and target clients on the basis of social details such as age, gender, location and interests.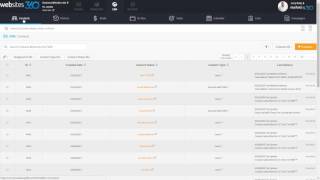 Marketing 360 dispone de una versión gratuita y ofrece una prueba gratis. La versión de pago de Marketing 360 está disponible a partir de 25,00 US$.
Precio inicial:
25,00 US$
Alternativas a Marketing 360
Opiniones de Marketing 360
Sector: Comercio minorista
Tamaño de la empresa: 11-50 empleados
Software usado

Mensualmente

durante

Prueba gratis

Fuente de la opinión
Relación calidad-precio
0
---
Negocios y ventas
Puntos a favor
me gusta que es completo para publicar mis productos
Desventajas
no hay nada que no me alla gustado, solo hay q ver que tipos de productos alzar de acuerdo a lo que le gusta a los clientes
Sector: Software informático
Tamaño de la empresa: 2-10 empleados
Software usado

Semanalmente

durante

Más de un año

Fuente de la opinión
Relación calidad-precio
5
---
Marketing 360 Reviews (2022)
It's best for newbies and offers several marketing solutions. TRY IT OUT
Puntos a favor
A beginner-friendly tool which effectively meets major needs for online marketing. I love it's support services and the overall quality ease-of-use of this tool.
It's been very helpful for most social media ads. I also enjoy the automation feature which also works great with scheduling being very helpful.
Desventajas
Honestly, I had to switch to an alternative after using it for 1.5 years because I noticed random bugs with signing in. This got me scared although, the support team helped out after 2-3 complains.
Additionally, the analytics reporting feature isn't efficient.
Sector: Entretenimiento
Tamaño de la empresa: Trabajador autónomo
Software usado

A diario

durante

1-5 meses

Fuente de la opinión
Relación calidad-precio
5
---
Great Results from an Incredible Team
Marketing 360 has been great. I was fortunate to be partnered up with [SENSITIVE CONTENT] and his team. We have been able to achieve more in the few months I've worked with him than I was able to on my own over the past several years. He is responsive, awesome to work with, takes my suggestions and ideas, and is able to stay with me and the goals I have.
Puntos a favor
The software is fairly simple to use. I have used different CRMs, payment processors, and website tools in the past. This software is right on par (if not more advanced) than the others. It is incredibly easy to use! The built-in automation, payment processor, and nurture tools are incredible.
Desventajas
The only part of the software that I think could be improved upon would be the social media tools. This could be (mostly) because I haven't used them a whole lot. I find it is almost easier to jump in and post on the different social media accounts myself.
Razones para elegir Marketing 360
An all-In-One platform that also had amazing customer service behind it.
Razones para cambiar a Marketing 360
The customer service. After the initial meeting, I was a little worried about getting the biggest bang for my buck. I did my research and thought that I would give it a go. I trusted my gut and put some faith into [SENSITIVE CONTENT]., his team, and Marketing 360. So far...I feel that I made the right decision.
Sector: Construcción
Tamaño de la empresa: 2-10 empleados
Software usado

Semanalmente

durante

Más de un año

Fuente de la opinión
Relación calidad-precio
1
---
Not Meant For Small Business
I would find a different marketing software if you are a small business. Customer support is nice but really geared towards big business.
Puntos a favor
I didn't like much about this product. It wasn't very user friendly, not meant for small businesses.
Desventajas
Not very user friendly, did not help our business grow at all. Leads were more often the not bots and scams.
Sector: Tecnología y servicios de la información
Tamaño de la empresa: 10.000+ empleados
Software usado

A diario

durante

Más de un año

Fuente de la opinión
Relación calidad-precio
5
---
I recommend Marketing 360 100%
The platform's increased trustworthiness stems from the fact that it can be accessed via the cloud, the online, and mobile devices. Since we can handle both content management and social media management inside Marketing 360, we can more efficiently reach a wide audience and capitalize on the growing trend toward online marketing. It has been remarkable to see how the platform has contributed to the development of both our company and the surrounding community.
Puntos a favor
Several marketing execs at Madwire including the most current one were great to deal with. To begin, if you're looking to promote your business on social media, Madwire is hands down the best option. Due of my lack of experience with social media, I was confused as to how everything operated. The help desk team put everything together, helped me grasp the concepts I required, and took over the rest without a hitch. She has simplified our social media marketing strategies and provided us with actionable advice and direction every step of the way. Her expertise, reaction speed, and originality really beyond my expectations, and I would suggest her and Madwire to anybody trying to boost their social media marketing efforts.
Desventajas
We have no complaints from Marketing 360, rather our department is happy