Sobre ActiveCollab
ActiveCollab is a project management solution for creative professionals. It offers cloud-based subscription plans or a self-hosting license. Projects are split into tasks and subtasks. Tasks can be filtered by the due date, assigned users, or custom labels. Dependencies between the tasks can be set, so there's always an exact order of tasks. Automatic rescheduling allows for the child tasks to follow the change made to the parent task automatically. Tasks can be viewed as a timeline (with shown dependencies), a kanban board, a calendar, or a list. Users can track time and budget spent on each task, set hourly rates, send invoices directly from a project, and export reports. Automatic reminders for clients can be set when payments are overdue. ActiveCollab offers a platform where all the communication (comments, discussions, reactions, in-app chat), projects, tasks and files are centralized. Support is provided online and via email. Monthly, yearly and one-time price plans are available.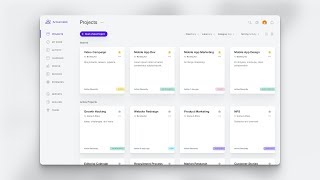 ActiveCollab dispone de una versión gratuita y ofrece una prueba gratis. La versión de pago de ActiveCollab está disponible a partir de 11,00 US$/mes.
Precio inicial:
11,00 US$/mes
Alternativas a ActiveCollab
Opiniones de ActiveCollab
Sector: Aprendizaje en línea
Tamaño de la empresa: 2-10 empleados
Software usado

A diario

durante

6-12 meses

Fuente de la opinión
Relación calidad-precio
0
---
ActiveCollab is a very Comprehensive Tool.
Puntos a favor
ActiveCollab ensures that I meet my deadlines and deliver quality work always. I can manage my work and collaborate with my team effectively and hassle-free. Its interface and design offers simplicity and helps me manage everything on one platform from tracking tasks, file sharing to planning on my calendar. I am really impressed with it and it is really helpful in terms of communication. I can recommend it to anyone.
Desventajas
I found it difficult to integrate it my calendar when I first started using but so far I'm pleased with it.
Sector: Software informático
Tamaño de la empresa: 2-10 empleados
Software usado

A diario

durante

Más de un año

Fuente de la opinión
Relación calidad-precio
5
---
Perfect Project management tool.
ActiveCollab is one of the best, if not the best project management tool that I have ever used and I have jumped from one to another tool for different projects and project types.
If offers so many features, perfect dashboard, milestone preview, calendar, planner, contact details, time tracking and much more.
While it is perfect for managing many different types of projects, this is still not the perfect tool for managing software development projects. The only reason for that would be, there is no (or that was not back then) an integration with Git or other version of control system. It was simply a missing feature back then.
I truly hope that nowadays the ActiveCollab team managed to improve and integrate such feature, but talking 6-7 years ago, that was the only downside that I can say about it. If for some reason that is still not available and you are into software development business, look for something else like Asana or Bitbucket.
Puntos a favor
Great dashboard, different types of reports, milestone preview, calendars, time tracking tool are just a few of the features that make this software irreplaceable tool when it comes to project management.
Desventajas
Lack of integration with Git or another version of control system.
Sector: Diseño gráfico
Tamaño de la empresa: 2-10 empleados
Software usado

A diario

durante

Más de dos años

Fuente de la opinión
Relación calidad-precio
5
---
Comprehensive Project management
Despite the above mentioned short comings (search functionality and date entry on estimates), overall Active Collab is a great asset to our team and our companie's ability to track all projects and billings in one place. We find it indispensable.
Puntos a favor
Ease of use and implementation. Simple staff on-boarding and intuitive interface.
Desventajas
Poor search function and lack of ability to enter a date on estimates... crazy that such a well rounded and useful software lacks a full feature search function and doesn't allow (nor even auto generate) a date field on the estimate form.
Razones para cambiar a ActiveCollab
Cost was major consideration, but it also provides all features we needed.
Sector: Diseño
Tamaño de la empresa: 2-10 empleados
Software usado

A diario

durante

1-5 meses

Fuente de la opinión
Relación calidad-precio
2
---
It is a beautiful app but not that useful
It was nice in the beginning but I just soon realised I needed something with easier to use features and no hidden costs. Onces a app like this becomes too complicated to navigate or customise - you will not use it as you need to daily because of that hassle.
Puntos a favor
It is beautifully designed so initially it seemed easier to use and navigate.
It had a client portal and I could track my jobs and invoice/do estimates all from one place.
Desventajas
It has hidden fees. Everywhere it advertises itself as only 7.50 a month. - But using the MAIN FEATURES OF WHY I WANTED THIS APP is extra, like invoicing, time tracking and using the client portal. This was not made clear initially. The client service is terrible. I would ask questions but there response was really terrible english language - not what I would expect from an international app that everyone should be able to understand. Especially a client service person called Darla. Terrible and rude manners and unhelpful.!
Razones para elegir ActiveCollab
I wanted a app that I could use to track my projects, my daily tasks, and has a timer. Plus I can send out cost estimates and invoices from and my clients can log into to track and make note of project progress and timeline.
Razones para cambiar a ActiveCollab
Activecollab seems to be the cheapest option where I could managment my projects, finances and clients from one place.
Respuesta de

Active Collab

We appreciate your honest feedback, and we are sorry to hear you had this experience with ActiveCollab.
As for the pricing, additional features such as Invoicing, Time Estimates, Workload, Availability, etc., are listed in the GePaid bundle section, which is charged additionally and is not a part of the basic paid plan. You can check out our pricing on the official site here: https://activecollab.com/pricing

Respondido el 15/9/2021
Sector: Marketing y publicidad
Tamaño de la empresa: 11-50 empleados
Software usado

A diario

durante

Más de dos años

Fuente de la opinión
Relación calidad-precio
5
---
Helpful tool for organizing
I use this tool daily to assign tasks to the team. It is a good helper and in general I am satisfied with how the application works.
Puntos a favor
Creating tasks is easy. I can create subtasks, assign executors and deadlines.
Desventajas
I would like it if the subtasks also had a deadline.