Sobre iClassPro
iClassPro is a cloud-based business management solution for midsize and large studios with features such as class management, attendance management, staff scheduling and online payments. iClassPro features class scheduling, which allows students to schedule their classes online. When a class booking is made, it reflects in trainers' calendars in real-time. The solution also features a mobile application for iOS devices where students can sign in and mark attendance. The app allows students to make online credit card payments for class fees and merchandise purchases. iClassPro features automated email and text messages which allow users to manage marketing campaigns and student communications. The solution features website integration which allows users to add pre-formatted buttons to patent websites by pasting the HTML code in the website code. iClassPro is available on a monthly subscription basis that includes support via email and through online knowledge base and FAQs. Support via phone is available during business hours on weekdays.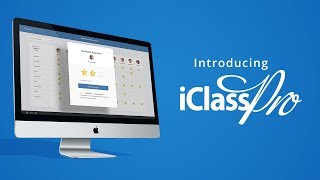 iClassPro no tiene versión gratuita, pero ofrece una prueba gratis. La versión de pago de iClassPro está disponible a partir de 129,00 US$/mes.
Starting Price:
129,00 US$/mes
Pricing Details:
iClassPro offers a free trial for 30 days, after which the software is available at $129 per month per location.
Industry: Deportes
Company size: 2-10 empleados
Software usado

A diario

durante

Más de dos años

Fuente de la opinión
Relación calidad-precio
5
---
Gym Class Management Software
Puntos a favor
iClassPro is perfect. The dashboard is easy to follow and the portal that the parents use is appealing and user-friendly.
As far as our back-end, its extremely functional. From class rosters, to merchant services, to generating reports.... its everything we need. The app was just released, we have yet to use it, but I hope its as great as all the software online.
And the flat fee rate is great, it does not increase with our increase in programs or enrollment. I highly recommend it.
Desventajas
None at this time. We have been waiting for an app to be developed for parents, and they just released that. Looking forward to testing it out .
Industry: Deportes
Company size: 11-50 empleados
Software usado

A diario

durante

Más de dos años

Fuente de la opinión
Relación calidad-precio
5
---
Simplifies Everything
Puntos a favor
iClass combines so many features for such a great value. We use it everyday and it has made admin & management of all our classes so much easier.
Desventajas
Some menus can be a bit hard to find - with some aspects of customisation of the parent portal best done by a developer - but for most this isn't an essential issue.
Razones para elegir iClassPro
GymBiz served us well at the start - but it's software-only nature started to become slow and clunky for our fast-paced growth. When we tried reaching for more advanced features - they either weren't there or cost a lot of money.
Razones para cambiar a iClassPro
Jackrabbit had a plethora of features - however it's admin interface at the time was incredibly cumbersome to use and outdated.
Industry: Deportes
Company size: 11-50 empleados
Software usado

A diario

durante

6-12 meses

Fuente de la opinión
Relación calidad-precio
3
---
new Customer - having some doubts
Overall the customer support has been very good in the areas that they can help us with. I am, however, very disappointed about being sold a product that once installed does not function for my company in the way it was described. See above.
Puntos a favor
I really like the clean look that it presents to our customers that are registering for our program.
Desventajas
We have found several problems that hopefully can be resolved.
*The "make up" feature that we were sold on, in actuality does not function for our business at all - it is useless to us and we are still having to use our manual system.
*we have had a problem with our selection of payment methods and our customers are still able to select a payment option (AmEx) that we do not accept and thus we are having to spend time and resources to correct what should have been automatic
*The staff portal would be far more useful to us if we could post automatic messages to our staff when the log in to the time clock
Razones para cambiar a iClassPro
I liked the look of it and the option for a mobile app to use with it. However, if we cannot figure out a work around for the Make Up policies, we will be taking another look at jackrabbit.
Industry: Salud, bienestar y deporte
Company size: 2-10 empleados
Software usado

A diario

durante

Más de dos años

Fuente de la opinión
Relación calidad-precio
4
---
Makes life much easier
I've been happy with Icp; mostly with customer service as they are very responsive. I find them very similar to jackrabbit, who I used previously
Puntos a favor
I can't imagine trying to run a gymnastics center without icp or some type of class management software. Customer support is very good. They are always available to help.
Desventajas
I don't like that certain feature (ie birthday party set up) are an additional expense. I wanted custom reports and they wanted to charge several hundreds of dollars which I found ridiculous. I couldn't run them by myself so that was frustrating.
Industry: Servicios e instalaciones recreativas
Company size: 11-50 empleados
Software usado

A diario

durante

Más de dos años

Fuente de la opinión
Relación calidad-precio
4
---
If your process fits its great - otherwise beware!
Love / Hate Relationship
Puntos a favor
It is easy to learn and use for our front desk staff.
It has some useful reporting
Billing is configurable but has its limitations
Accepting credit card payments in an authorized / automated way is helpful
The shining star is the support staff - they are very friendly, helpful, knowledgable and usually very quick to get back to us and help solve issues.
Recently they have had their wings cut since they are no longer able to mass edit things for us - they now want to charge us $125/hr for "custom development". We don't have a lot of these type of requests (2-3 per year) but when they arise they are usually at the busiest times (billing & creating new schedules). So we are put in a tough spot and usually nots not worth paying hundreds to fix the issue, rather do it by hand but its a pain!
Desventajas
It can be very manual to set up or change your class schedule, your billing schedule.
There is no integration so outside of your very initial setup - be ready to entry a lot of information by hand.
They used to offer simple database help for free - like we collected a list of 60 leads email & phone numbers that we wanted to upload - they told us that would cost an additional $250 for "custom development". -BEWARE!
Also they will try to lock you into using them a credit card processing provider at fees that are not so competitive. Shop around!
Razones para cambiar a iClassPro
It seemed easier for our front desk staff to learn - but that was then, do shop around and get a feel for yourself.