Sobre HelpCrunch
HelpCrunch is a customer communication platform combining live chat, email marketing automation and a help desk in one solution. The solution helps support, sales and marketing teams to acquire, convert leads and support their customers. HelpCrunch is suitable for SaaS, e-commerce and any other type of online business. Live chat works as a visitor engagement, lead acquisition and support tool. The feature enables companies to reply to customer queries instantly or later in the same thread, even after the customer has disconnected. An in-app messenger can be integrated with a website or application to engage with customers. Chatbot helps companies automate routine tasks and jumpstart their lead generation activities. Email marketing automation enables users to send email follow-ups right from the chat, launch one-time emails or create event-triggered automated email sequences for onboarding or marketing campaigns. The help desk module can organize all customer communication, prioritize actions, distribute tasks and manage each customer case. Pricing is tiered, based on the number of agents and emails.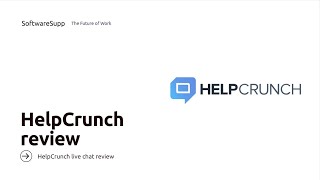 HelpCrunch no tiene versión gratuita, pero ofrece una prueba gratis. La versión de pago de HelpCrunch está disponible a partir de 15,00 US$/mes.
Precio inicial:
15,00 US$/mes
Alternativas a HelpCrunch
Sector: Internet
Tamaño de la empresa: 2-10 empleados
Software usado

A diario

durante

1-5 meses

Fuente de la opinión
Relación calidad-precio
5
---
Software con multitud de funcionalidades fáciles de manejar
Destaco el tener en un mismo software la parte de live chat + email marketing. Ya no necesito software's como ActiveCampaign, etc... También knowledge docs...
Puntos a favor
Muy cuidado en los detalles, minimalista y a la vez muy completo. Me gusta mucho la integración entre live chat y email marketing. Es precisamente lo que yo estaba buscando.
Desventajas
Necesita una app en Zapier que me han confirmado que está lista en pocos meses. En mi caso ésta debería integrarse con PayKickStart. Debería ser completa y no testimonial.
La modificación de etiquetas en los contactos debería ser más ágil. Me han confirmado que nuevas funcionalidades al respecto llegan en breve.
Sector: Internet
Tamaño de la empresa: 11-50 empleados
Software usado

A diario

durante

6-12 meses

Fuente de la opinión
Relación calidad-precio
5
---
The software that really helps
HelpCruch has everything we need to automate the process of catching leads, providing necessary information to them and don't let them forget about us after we had a chat.
All the features are pretty detailed which helps to create what you really need. For instance, a pop-up. You can select different styles, colors, there is no limit on what you do. That's why your work with HelpCrunch is a pleasure.
One more thing, that will definitely win your heart is outstanding online customer support HelpCrunch has. They treat you not as a random user, but like a friend. Furthermore, they do release the features you request. They are just fabulous :)
Puntos a favor
HelpCrunch has a user-friendly interface with all necessary features supported. I would say, the team has thought for us by creating top-notch functionality. It was a great surprise, uniquely different pop-ups, and automatic follow-ups.
I would recommend to each new user to set up a demo call to see the full set of functions the HelpCrunch chat platform has.
Desventajas
There is nothing I can list here :) Like... really nothing :)
Razones para cambiar a HelpCrunch
The features, attractive design, functionality, price, online support have won in comparison with our previous platform (Drift) and a few that we were considering.
Respuesta de

HelpCrunch

Lana, you made our team's day. Thanks for all the love!
We're super glad to have you and supporthunt team as our loyal customers.

Respondido el 6/9/2019
Sector: Internet
Tamaño de la empresa: 2-10 empleados
Software usado

A diario

durante

6-12 meses

Fuente de la opinión
Relación calidad-precio
5
---
Excellent value-for-money Software for our SaaS business
While we were only looking for a chat solution, and had two bad experiences with competitors who had "automated solutions" where no-one was actually there to sort their bugs out.
Helpcrunch, on the other hand was reactive from day 1. We were pretty quick to install it on our system (both website & SaaS).
We programmed dozens of automated messages, also use it to push product news to our customers, and get quick feedback through the chat for our on-trial customers.
Overall, I recommand Helpcrunch for Chat Messenging and E-mailing, though I have not tested all the options that are part of our package (such as the integrated Resource Center)
I look forward for further developments of the solution in 2020 !
Puntos a favor
- Complete suite for emailing and chat
- Simple enough, yet highly customizable
- Very reactive customer support teams
Desventajas
- No Drip email marketing implemented (well, not yet as of 12/2019)
Razones para elegir HelpCrunch
Customerly did not work properly, and there was no answer for 2 weeks to our questions.
Respuesta de

HelpCrunch

Hey Thomas! Thanks a lot for all the comments. We're pumped you're with us.

Would love for your to explore the Knowledge base (Resource Center) as well - it's really helpful if you want to automate your support and provide a self-service option for customers.
If any questions, we're always there to assist you.

Respondido el 8/1/2020
Sector: Tecnología y servicios de la información
Tamaño de la empresa: 10.000+ empleados
Software usado

A diario

durante

1-5 meses

Fuente de la opinión
Relación calidad-precio
0
---
Nice pricing options and supports migration from previous tool
Puntos a favor
It has lot of things bundled(like knowledge base, chat bot, email marketing, etc.) in it with awesome pricing options. Their chat widget is highly customizable to have a consistent look and feel with my website.
Desventajas
No such major cons, it is a nice tool. Only thing which they can improve is their basic price option. The basic variant should have some more features.
Sector: Software informático
Tamaño de la empresa: 2-10 empleados
Software usado

Otro

durante

Más de un año

Fuente de la opinión
Relación calidad-precio
0
---
Web software ok. Mobile app non-functional. Service non-existent
Refused to allow me to cancel, even though I attempted to do so on the renewal date, and even though their app isn't working, so I can't respond to customers through the app. They suggested that I could enable email notifications - completely negating the point of instant response.
Puntos a favor
It was reasonably easy to install, although took a while to configure.
Desventajas
Mobile app didn't work, so when I did get enquiries I wasn't able to respond, making it look like I didn't respond to my customers.
Respuesta de

HelpCrunch

Hi Andrew! We really appreciate your review. Indeed there were some issues with the mobile apps in the last few weeks which a very small part of our customers have, unfortunately, experienced. You were one of them.

We do realize that this has affected your communication with customers and your business. We're terribly sorry for that and just wanted to let you know that we listen to all the feedback and try to react asap. We're rolling out a new update already this week which is aimed to dramatically improve both iOS and Android apps performance and overall user experience, fix the issues you've experienced + provide some new exciting features.

We really hope you'll be able to try out the updated apps. Our team would be looking forward to your feedback! Please don't hesitate to get in touch with us at any time. Take care!

Respondido el 29/7/2020