Sobre Fishbowl
Fishbowl is the #1 manufacturing and warehouse inventory management software! Its powerful inventory control system gives your small or midsize business the exact tools needed to transform your inventory management and scale your business. Fishbowl reduces the number of steps in your manufacturing process and seamlessly integrates with some of the most popular business solutions such as QuickBooks, Amazon, Adobe, Shopify, Salesforce and more. Customers appreciate Fishbowl's inventory control, material requirements planning (MRP), job shop floor control, work order management, barcoding, raw materials management, manufacturer orders and bills of materials (BOM) and ability to predict inventory requirements based on sales trends. Simplify your business' processes, improve efficiency, and save money with real-time inventory updates with Fishbowl's manufacturing and inventory software.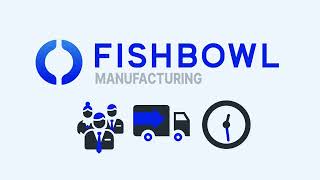 Fishbowl no tiene versión gratuita, pero ofrece una prueba gratis.
Precio inicial:
Sin información del proveedor
Sector: Comercio minorista
Tamaño de la empresa: 51-200 empleados
Software usado

A diario

durante

Más de dos años

Fuente de la opinión
Relación calidad-precio
0
---
Fishbowl para warehouse
Puntos a favor
Sistema facil de usar. Funciones disponibles para escaneo de productos, envío y shipping. Generador de órdenes de pedidos e inventario
Desventajas
En ocasiones muy lento. Cuando varios usuarios se loguean en la aplicación se torna muy lento o imposible de entrar
Sector: Fabricación de productos eléctricos/electrónicos
Tamaño de la empresa: 2-10 empleados
Software usado

A diario

durante

Más de un año

Fuente de la opinión
Relación calidad-precio
0
---
Fishbowl Review
Puntos a favor
Accommodates your daily tasks with reliability.
Desventajas
You have to really understand it to avoid flaws in the system.
Sector: Suministros y equipo para empresas
Tamaño de la empresa: 11-50 empleados
Software usado

A diario

durante

Más de dos años

Fuente de la opinión
Relación calidad-precio
4
---
Quality Software for Small to Mid-Size Businesses
We have been using Fishbowl Inventory since 2011 and while it has been quite an eventful journey we have seen definite improvements over the years in stability and ease of use.
Puntos a favor
QuickBooks integration is probably the feature I appreciate the most about Fishbowl. Any small to mid sized business that is outgrowing QuickBooks inventory management features but doesn't want to pay the price of an all-inclusive ERP program targeted for larger corporations should consider Fishbowl Inventory. The ability to track inventory by location, assign multiple vendors to one item, create intuitive bill of materials items that are as simple or complex as you wish, add multitudes of pricing rules for your products and customers, assign reorder points and order up to levels for your parts to quickly reorder items that are low, Fishbowl plugins that connect to a wide range of third party programs, I could go on for a long time about what there is to like about this program. Their support has definitely improved over the years as well, with a response to a support ticket usually within the hour.
Desventajas
One inherent weakness with Fishbowl is the QuickBooks export connection. Fishbowl has made tremendous improvements in this area since we first started using it, but there are still multiple times that we need to restart the connection before running an export. To be fair, this may be as much QuickBooks' problem as Fishbowl's. The software also tends to be buggy after new releases. Again, they have improved lightyears over what they were 8 years ago, but still be prepared to have some weird things happen occasionally when a software update is released. Also, Fishbowl only has rudimentary accounting functions and leaves the majority of accounting related tasks to QuickBooks. This can create accounting headaches and even nightmares if the wrong QuickBooks accounts are assigned to items in Fishbowl. I do miss the QuickBooks ability to map transactions directly to expense accounts. In Fishbowl, you must create an item and then map it to the correct QuickBooks expense account, which again asks for accountant's nightmares.
Sector: Ropa y moda
Tamaño de la empresa: 11-50 empleados
Software usado

A diario

durante

Más de dos años

Fuente de la opinión
Relación calidad-precio
5
---
A Great All Around Product For Inventory
Fishbowl has helped us save money by being able to control everything from inside and not having to hire multiple 3rd parties to make connections. Fishbowl continues to add and upgrade the software to what consumers ask for.
Puntos a favor
Fishbowl software is easy to use. I like that you always have step by step instructions and some videos to help guide you. If you don't find what you are looking for, all it takes is an email, and support helps you as quickly as they can.
Desventajas
The only negative issue I have while using Fishbowl software is with the reports. Even though they have multiple reports to choose from, I feel as some of them can be upgraded to include more than one product a t a time. Example, when searching for a product that was sold on a particular day, and you have more than one size of the same product, it would be nice to be able to select as many products as you want to look at versus one at a time.
Respuesta de

Fishbowl

Thank you so much for this review, Michelle. We appreciate you taking the time to provide your feedback. We are happy to hear that your experience has been satisfactory and will take your suggestions into consideration while we continue to make improvements.

Respondido el 17/3/2022
Sector: Ingeniería industrial o mecánica
Tamaño de la empresa: 11-50 empleados
Software usado

A diario

durante

6-12 meses

Fuente de la opinión
Relación calidad-precio
4
---
Fishbowl Manufacturing Software has proven an invaluable inventory management tool for our...
Fishbowl Management software has offered our team a complete supply chain management and physical sales tracking system in one convenient system . In this time especially , we understand that organization and efficiency are paramount to surviving let alone prospering and we are thankful to Fishbowl for helping.
Puntos a favor
Our team found both these ease of use and relative ease of integration to be among the most attractive components of Fishbowl. The variety of modules allow close monitoring of essentially every aspect of
physical asset tracking . With Fishbowl we can organize warehouse parts inventory , print labels,and
organize purchase orders which organizes our supply side. Fishbowl's sales side module allows for effective tracking of lead times as well as sales item forecasting so we are never behind on available inventory .
Desventajas
Fishbowl Manufacturing software at this time time requires the use of a server which we had to supply .
In exchange for all other features , we see this as a nominal and not inconvenient requirement as at the time we were adding new computer assets. This requirement may not suit all smaller companies.
Razones para cambiar a Fishbowl
We selected Fishbowl Inventory Management software over alternatives for its comprehensive module options which allow for a complete organization of our office and warehouse now optimized with a primary consideration to sales output and production. We could not ask for more in this area of business operations.
Respuesta de

Fishbowl

Thank you for taking the time to leave this review, Louis. We appreciate your business and are happy to know that your experience has been satisfactory.

Respondido el 7/10/2021