Sobre Vagaro
Vagaro is a cloud-based salon, spa and fitness business management solution that allows professionals to book appointments and manage various facility roles. It offers an integrated solution to manage bookkeeping, payroll, client databases and inventory management, as well as featuring email and text notifications to clients and automated email marketing. Users can list available appointment slots, and customers can then look for salon facilities nearby and book appointments through Vagaro's website or the Vagaro app. VagaroPro, the business app, is available for Android and iOS smartphones. Users can create customizable promotional web pages to showcase upcoming events and special offers through Vagaro's website or connect with their customers through email and social media platforms. Customers can also create personalized profiles with their contact information, booking history and feedback. Users can keep records of their customer service histories and generate customizable reports with graphs and charts to track business performance, customer retention and more.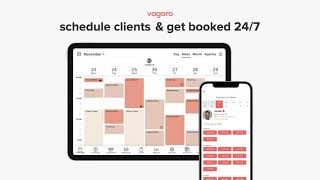 Vagaro dispone de una versión gratuita y ofrece una prueba gratis. La versión de pago de Vagaro está disponible a partir de 25,00 US$/mes.
Precio de partida:
25,00 US$/mes
Detalles de precios:
1 user: $25 /month 2 users: $35 /month 3 users: $45 /month 4 users: $55 /month 5 users: $65 /month 6 users: $75 /month 7+ users: $85 /month
Sector: Productos cosméticos
Tamaño de la empresa: Trabajador autónomo
Usado

A diario

en

Más de dos años

Fuente de la reseña
Relación calidad-precio
5
---
Very Help to Small Bussiness
Tiene el mejor precio para los micro negocios
Puntos a favor
las clases son verdaderamente interesantes
Puntos en contra
Todo esta muy bien entendido en las clases
Respuesta de

Vagaro

Hi Adela, thanks so much for your feedback. We greatly appreciate that you took the time to share your experience with our Software. Thank you for being a Vagaro Business!

Respondido el 24/7/2020
Sector: Medicina alternativa
Tamaño de la empresa: Trabajador autónomo
Usado

A diario

en

1-5 meses

Fuente de la reseña
Relación calidad-precio
5
---
Me encanta
Todo en uno a un precio accesible, mejor que otras compañías que he probado y en Puerto Rico funciona super bien.
Puntos a favor
EL precio es fabuloso. Ellos pensaron en todo y como cada negocio tiene necesidades diferentes crearon los servicios individuales y tu los añades de acuerdo a las demandas de tu negocio y eso vale un millón. Accesible y fácil de usar. Te facilita la vida muchísimo. Gracias por crear esta super herramienta para negocios.
Puntos en contra
no he visto un contra. todo me encanta. los tutoriales son lo mejor.
Respuesta de

Vagaro

Hello, thank you for sharing your feedback. We appreciate it so much. We are grateful to have you as a Business on Vagaro!

Respondido el 26/2/2020
Sector: Comercio minorista
Tamaño de la empresa: 2-10 empleados
Usado

A diario

en

1-5 meses

Fuente de la reseña
Relación calidad-precio
5
---
Best merchant software
Overall I am having a great experience.
Puntos a favor
I love the fact there is a 24/7 staff to help with issues. I hated how other competitors made you email them to get a response.
Puntos en contra
Pricing. Everything is $10 additional that all.
Respuesta de

Vagaro

Hi Jennifer, thank you for sharing your feedback. Feedback like this helps us make our software even better, so thank you for taking the time to let us know what you think!

Respondido el 4/2/2021
Sector: Salud, bienestar y deporte
Tamaño de la empresa: 2-10 empleados
Usado

A diario

en

Más de un año

Fuente de la reseña
Relación calidad-precio
5
---
Great Software with many features
Puntos a favor
I really liked the email and text confirmations, email marketing feature.
Puntos en contra
I feel like there could be an text to software window where clients could send messages thru to their service provider instead of your personal phone number.
Also when an appt is booked with a specific service provider and the client receives confimation email . Sometimes the client responds to the email but it goes directly to the owner rather then the actual service provider. Is there a way to direct those emails to the service provider?
Respuesta de

Vagaro

Hi Liana, we just wanted to say thank you so much for your feedback. We love that you are enjoying our software and are happy to help any time you have questions. Thank you!

Respondido el 3/3/2021
Tamaño de la empresa: 2-10 empleados
Usado

A diario

en

Más de dos años

Fuente de la reseña
Relación calidad-precio
4
---
Many pros, but and equal amount of cons
I have used Vagaro for about three years. Initially the bells and whistles are enticing. You begin with the $25 fee, but the functionalities you need to get the most of the site come at additional fees. If you do not add these "monthly" fees the site is very bland.
If you want to use the features such as: credit card capture, requiring a credit card to be enter by clients to book and other options such as these, you must add their chosen processing company along with authorize.net; of course with other added monthly fees.
The customer service agent are limit in their knowledge and frequently tell you they will add your issue "in the que" for the technical department. They have a forum where you can discuss and suggest issues and request features, but it seems to be just for show for the past few years.
When you use their credit card processing you are automatically batched out at "4PM". Whatever income you make after 4pm will be added to the next day. Any income made after 4pm Thursday will not be added to your bank account until "MONDAY MORNING". Meaning anything after 4pm Thursday, all of Friday's income and Saturday's income will not be added to your account (including tips) will not be added until MONDAY.
The credit card processing company is very hard to contact.
The mobile credit card device has not been updated to read card chips , but we have been told for almost a year it will be available "in about a month".
The system is very slow. Make sure you have a mobile device AND your computer just is case it is on the fritz.
They did what they initially called emergency maintenance on the Friday before the 4th of July without any notice. We could not use the site at all. No new appointments, could not check anyone out and if you did not have a hard copy our product prices you could not sell ANYTHING for about 4 HOURS in the middle of the day. They system was visibly on the verge of malfunctioning for days, but they did not send out any emails preparing us for the system being shut down, but they did send one early that day to alert us about a new feature .....
To sum it up, while there are many features they come at a price, with mediocre customer service, many restrictions on receiving your funds and you advertise their service every single time you send out a email, text or any other notice, but you are added to their very saturated search engine and your clients can be enticed by other salons in your area.
Puntos a favor
A lot of features
Puntos en contra
Mediocre customer service
You advertise for them whenever you reach out to clients
Runs slow
Credit card processing is not the best; your money is held hostage for days at the end of the week and batches out to early
Your clients can be enticed by other salons in your area that also uses the site if they add their location