Sobre CAKE POS
CAKE by Mad Mobile provides an easy-to-use All-In-One POS that owners will learn like a pro in a short amount of time. The restaurant management system takes care of everything in one place with integrated online ordering, curbside pickup, reservations, and menu organization. With the All-In-One POS, restaurant staff can easily place and modify orders. CAKE by Mad Mobile's payment cube can accept all forms of payment, including through a customer's phone with Apple Pay or Google Pay. With online ordering and curbside pickup, you can eliminate digital walkaways, send order updates to customers, and save pricey commission fees from other providers. You can expand your system by adding tablets for tableside ordering. You can increase your speed of service, improve order accuracy, and elevate your average order value by 33%. With QR code payments, the process speeds up time for the customer and lowers wait times. The All-In-One POS benefits independent restaurant owners who want to replace their current POS or don't have a cloud-based system. Mad Mobile also benefits small to mid-size chains looking to extend the service of the existing POS system. Restaurant owners can feel comfortable because CAKE by Mad Mobile has free 24/7 customer support where staff can reach the customer service team via call, email, text, or chat.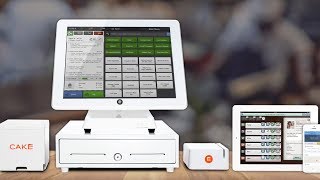 CAKE POS no está disponible en versión gratuita. La versión de pago de CAKE POS está disponible a partir de 69,00 US$/mes.
Precio inicial:
69,00 US$/mes
Sector: Alimentación y bebidas
Tamaño de la empresa: 11-50 empleados
Software usado

A diario

durante

Más de dos años

Fuente de la opinión
Relación calidad-precio
5
---
Easy to use and a definite asset for restaurants and bars!
We had a wonderful experience overall with our system. I would still be using it if our business had not sold and would use again if we ever open a similar business in the future.
Puntos a favor
The CAKE POS was very easy to use and I loved the detail it provided for us. As a restaurant and bar, we needed a lot of detail in orders and the ability to print to different stations was amazing vs. having to walk each order back. The reports were easy to use as was the changing of the menu and adding/removing items. It was also great for training staff because it was very straight-forward and step-by-step.
Desventajas
Table numbers being required would be great. The signature pad being a little more sensitive to picking up finger signatures. Split checks were sometimes burdensome and could use a little improvement to speed things up when it's busy. I would love it if the creating of subcategories would be easier (say you have several of one brand of wine so you have less tabs to have to look for items).
Sector: Restaurantes
Tamaño de la empresa: 11-50 empleados
Software usado

A diario

durante

Más de un año

Fuente de la opinión
Relación calidad-precio
5
---
Who Doesn't LOVE CAKE?
The data that CAKE provides me is incredibly valuable to our business. We love it!
Puntos a favor
We don't spend any time on training new team members to use our POS System (CAKE). Seriously, it's so easy we show them a few features and they are running it like a pro on day one. That in it's self has saved us a ton of payroll we use to spend on training.
From a ownership perspective, we have four locations and I'm able to track them from my central office, Wonderful!
Desventajas
Negatives only fall on one piece of the equipment. The cash drawer and the insert in it are not built for the type of abuse they can take in some operations. I wish there was an option to purchase extra drawer inserts.
There are no other negatives about CAKE.
Razones para elegir CAKE POS
To provide my customers a better more efficient experience and to allow our team members an easy to use system that we as owners could easily track.
Razones para cambiar a CAKE POS
Cake seemed to have a more durable product. The biggest reason was....When I spoke with all the sales staff from the different companies the CAKE representatives were the only ones that never talked negatively about their competitors. That let me know they didn't need to degrade the other guys, they had faith in the system they were selling. I now have the same faith in CAKE.
Sector: Alimentación y bebidas
Tamaño de la empresa: 11-50 empleados
Software usado

A diario

durante

Más de dos años

Fuente de la opinión
Relación calidad-precio
5
---
POS
Overall, we love this product, especially the support we get from the friendly staff. Anytime we have an issues, we call and it gets fixed. We have also been able to troubleshoot and fix items ourselves numerous times. It's an easy system and we recommend it.
Puntos a favor
Our customers love their screen. They like that they can see their order. It's easy to read and understand. We love that we can use the system from home on the laptop and not just in the shop. I make changes to the menu mostly from home. I love having the itemized close cash receipt every day. I love all the reports that I get for tracking my business.
Desventajas
I don't like that all the buttons are the same color. It makes it very difficult to find buttons in a hurry when you have 40 different syrup flavors and 34 different teas. We need colored buttons that we can use as groups, for example, I could make all our sugar free syrups green and all the syrups that start with an A, blue, etc... It helps your eyes to find things quicker. It is really stressful for new employees to find buttons when training and the customer is standing there staring at you. It's better as a trained employee, but it would save us time at the machine when we could be making their order. Colored buttons are highly needed. Also, ever since the last software update that affected us directly, it is harder for me to add new products to the menu and put them in the right place. I can't put my finger on what changed, but i have trouble adding new products under existing categories. They come out as new buttons on the main screen. Not sure how to fix that.
Sector: Restaurantes
Tamaño de la empresa: 11-50 empleados
Software usado

A diario

durante

Más de dos años

Fuente de la opinión
Relación calidad-precio
3
---
A promising work in progress
Cake is a perfectly adequate system that has served our needs but as we grow we feel like we need to search for a more robust system with all of the features that we need.
Customer service has always been responsive, even if to tell us that the features we requested aren't available.
Puntos a favor
This system is user friendly and has all of the BASIC features you need to get going. The customer facing hardware is attractive and functional. Back end programming is fairly easy to use once you are familiar with it. Online ordering has been fairly easy to implement and has all of the BASIC functions you need.
Desventajas
After working with this system in multiple locations for a few years, we have come to learn of some shortcomings - reporting with the system in difficult to navigate and hard to generate more detailed sales reports. It is not an intuitive reporting system. The basic snapshot functions are great, but digging deeper to get more detailed reports is cumbersome. Also some basic functionality on the restaurant side is still missing. Tickets in the kitchen print up items in random order and there is no way to address this in the system. Most other systems have the basis functions to group and prioritize items on tickets for the kitchen and bar printers. You don't realize how important this is until you don't have it on a POS system. There is still no way to offer discounts or accept gift cards online either.
Sector: Restaurantes
Tamaño de la empresa: 11-50 empleados
Software usado

A diario

durante

Más de dos años

Fuente de la opinión
Relación calidad-precio
5
---
Value, Function, and Top Notch Customer Service
We were so thankful at how easy it was to activate online ordering. Our customers feel confident providing their credit card information through a secure system, and we love that we can remove items from the online system from our POS when we run out of a certain special. We appreciate the way the user dashboard online is simple to navigate and provides a clean pie-chart or graph style analysis of our sales, popular items, labor vs. income, etc. Those graphic visuals are invaluable when we are quickly checking in during a busy shift to see where our numbers are. We have a wide range of literacy comfort levels at our restaurant and we feel like our employees are all able to navigate the system easily and effectively. We think that is important from an accessibility standpoint.
Puntos a favor
We switched to CAKE from another POS system in 2016, after being in operation for 1.5 years. We have been impressed with the way CAKE constantly tries to provide new features. As a farm-to-table quick-service restaurant, our menu changes weekly and we find it simple and straightforward to make updates each week. Due to COVID-19, we recently activated the online ordering and we believe it has saved our business. We were able to activate and integrate it quickly and we love the reporting capabilities the system gives us. Our customer service has been top notch--from our sysco rep to our CAKE customer support manager, we have received a quick response to any question we've had. We feel very comfortable requesting new features and integrations based on our needs and we feel like they really listen to us and try to incorporate our ideas quickly and simply. We did not have this level of customer support with our previous POS system and we really value being able to get a live person on the phone quickly and easily when we have an issue. We love the intuitive, easy-to-read sales analysis reports and use them each week with our management team to evaluate our menu items and determine our next round of specials. We really like that we can make menu edits both on the POS and with the online platform---hoping for a mobile app next for very quick and simple edits!
Desventajas
We first purchased in Spring 2016. The software felt a little sluggish and honestly, we were not sure if it would easily keep up with our pace. But we have been very impressed with CAKE's constant evaluation and roll-out of new features and integrations--they haven't missed a beat! We don't use all the features yet, but because of the recent success with our online activation, we are now considering two more apps. I would prefer a tiered/capped monthly pricing system depending on how many apps/additional software platforms we integrate (like accounting, customer management, 3rd party delivery apps, etc)--rather than installing each a-la carte, but hopefully that will be an option in the future. The additional monthly fee per app has made us hesitant to try new ones. We would also like to have more control over the look and feel of the online ordering page--functionally it meets our needs, but would love to integrate it into our own website and select the background color, text color, etc, to make it feel like a seamless integration rather than making our customers feel like they are "leaving" our site to go to another. There are some features/edits that are only available from the POS system (not menu items, but system preferences/settings categories) In the future, I hope they make those features editable from the online access platform as well, because sometimes I want the flexibility of making certain adjustments from home on my computer during off-hours.
Razones para elegir CAKE POS
Our Sysco rep at the time was very knowledgeable about different POS systems based on her career in several restaurants prior to Sysco---she was straightforward with us about her experience with multiple systems, their price points, and value. She suggested we consider CAKE and we followed her recommendation. We are so glad we did. We prefer it over our previous system, but as a small rural restaurant, we were not able to afford the much more expensive systems.
Razones para cambiar a CAKE POS
CAKE had the right combination of value, ease of use, and features. We have recommended CAKE to several of our restaurant owner friends in the region. It has a simple interface, the customer service is stellar, and the constant addition of new apps and integration makes us feel like we are getting the best value in a price range we can afford.
Respuesta de

CAKE from Sysco

Thank you Kristin for the detailed review about your experience with CAKE Point of Sale and being a customer since 2016! We're excited to hear that you've had such a great experience so far and we'll definitely forward your suggestions to our product team.

Respondido el 29/4/2020