Sobre Apptivo
Apptivo is a cloud-based suite of applications designed to help small businesses manage a range of functions including financials, human resources and supply chain management. Apptivo's customer relationship management (CRM) applications provide modules for contact management, lead management, opportunity management and customer service ticket management. Marketing applications include campaign management, lead segmentation and loyalty management. Businesses can select necessary applications and omit applications they do not need. Other applications include expense reports, license and insurance tracking, sales planning and territory management, cash management and budgeting. Users can access Google app integrations for Drive, Calendar and Tasks, and mobile apps are also available. Pricing is per user per month, billed annually.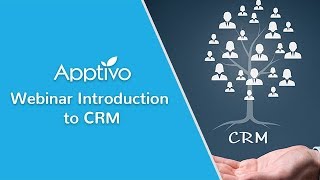 Apptivo dispone de una versión gratuita y ofrece una prueba gratis. La versión de pago de Apptivo está disponible a partir de 10,00 US$/mes.
Precio inicial:
10,00 US$/mes
Sector: Administración educativa
Tamaño de la empresa: 11-50 empleados
Software usado

A diario

durante

Más de dos años

Fuente de la opinión
Relación calidad-precio
5
---
Excellent first CRM for small companies
Puntos a favor
Apptivo allows for a broad range of customization possibilities, making it an excellent out-of-the box option for companies transitioning to a first CRM system.
While other competitors may have sleeker design, the consistency of page layouts and button placement was a huge plus for our inter-generational team and made it easier to manage the transition to an online software after years of working with excel and google docs.
The settings interface within each app makes it very easy to learn how to customize basic field, views, and list options - meaning that smaller companies can look to train someone from within to work alongside Apptivo, instead of needing to hire an external administrator.
The Apptivo team is always HIGHLY responsive. From the initial demonstration walk throughs to fine tuning system design and troubleshooting problems, I have found their customer service to be excellent. [SENSITIVE CONTENT] and to all the others working behind the scenes to help us at the different stages of our projects, THANK YOU!
Most of all, I appreciate that Apptivo continues to improve on their product. Throughout the nearly 3 years I have worked with them, the system has developed to continously offer more features.
Desventajas
As with any option in this price category, there are occasional bugs. Reporting them to Apptivo generally results in a very quick fix.
Slow load times - it has improved somewhat, but still pages sometimes lag.
Razones para cambiar a Apptivo
Our business operations are highly integrated across recruitment, sales, and project management. Most competitors package these separately at additional costs for each area of business process. With Apptivo, we found that the price packages are highly suitable for small businesses with staff repsonsibilities crossing over different business areas. Also, we liked the design as a transition for our team. While some competitors have more modern designs, there often is inconsistency in button placement depending on the operation being effected. With an intergenerational team, we appreciated the consistent design across Apps in Apptivo.
Sector: Gestión de organizaciones sin ánimo de lucro
Tamaño de la empresa: 2-10 empleados
Software usado

A diario

durante

Prueba gratis

Fuente de la opinión
Relación calidad-precio
5
---
Always surprising me with it's capabilities!
The [SENSITIVE CONTENT] of the rescue is not tech savvy and is constantly on the road picking up feral cats, taking cats to the vet, managing the foster network, running the operations of the rescue and setting up appointments for adoption interviews. She needs as much information at her finger tips (smart phone, ipad or laptop computer) as she can get. The goal is to use Apptivo to reduce her workload, help her be more organized and reduce her driving around just to pick up files from various people just to have the data she needs on any given day. We are using Apptivo to enter all the data we can so she can update data and status's on the road in her free time. Also so she doesn't have to send as many texts and emails to get answers because all the answers she needs will already be data entered into Apptivo.
Puntos a favor
The ability to CUSTOMIZE! Customized fields for contacts, companies and I can make my own custom apps! Also customer service and the engineering teams are top notch! 24/7 support. 90% of the time they can help me. The 10% of the time they can't and refer me to engineering for unique situations the engineering team is great at reaching out to me quickly to resolve the problem.
Not a perfect app, but they are receptive to suggestions and ideas. They work to implement user suggestions. I've seen them implement my ideas from using them with my company.
Desventajas
No way to track ages by birthdate. Yes, you can use a date field to track birth dates, but I need a field that shows me a client's CURRENT AGE based on their birthdate field. With hundreds of children clients in my database it's super important to know who has a birthday coming up and how old they are exactly on any given day. It would be even better if the birthday field was set up so you could set alerts/reminders that birthdays are coming up that month, that week and today. Remembering a kid's birthday means the world to them!
We also are trying to find homes for cats. They too age every day. Knowing their current age is super helpful when trying to find them homes. With hundreds of cats that are in our system that we are trying to place we need a quick view of all the cats and correct CURRENT age based on their birth date.
Sector: Tecnología y servicios de la información
Tamaño de la empresa: 51-200 empleados
Software usado

Semanalmente

durante

Más de un año

Fuente de la opinión
Relación calidad-precio
5
---
Exceeded Expectations
The onboarding team was wonderful and addressed every issue that came up. They were incredibly responsive and Apptivo delivered on all the features we wanted/needed. Apptivo is an absolutely critical part of our business at every level. From lead management, to sales and quoting, to implementation and onboarding of new customers. It is so much more than a CRM for us.
Puntos a favor
The onboarding team made sure all of our data was transferred over as we expected and they made everything so easy for us. It is really feature complete so we were able to eliminate multiple other systems and consolidate so it is easier for all staff involved.
Desventajas
The Outlook integration has had some trouble with calendar appointments that we had to work through.
Razones para elegir Apptivo
We were going to need to spend a lot to re-vamp some processes and it is all consultant based with Dynamics so we decided to look around at other options. Apptivo was by far the best fit for us. It is less costly and easier for us to maintain ourselves. Support and onboarding with Apptivo is top notch.
Razones para cambiar a Apptivo
Apptivo is incredibly feature complete and they are more cost effective and support their own product so we can make changes ourselves and also reach out to their support team for help if we need it. It was the best fit for our business by far.
Sector: Maquinaria
Tamaño de la empresa: 11-50 empleados
Software usado

A diario

durante

6-12 meses

Fuente de la opinión
Relación calidad-precio
5
---
Apptivo is THE Best CRM Software System Available!!
Outstanding! This is the fourth CRM implementation that I have administered in my career and it was by far the simplest and smoothest process with the greatest customization and functionality! After going through the selection process and reviewing all of the "top CRM Solutions" in great depth, I chose Apptivo and I am super glad that I did! Apptivo keeps the system simple to use, which is a must for sales reps, and provides the customization required. The other "top CRM Solutions" have forgotten what salespeople are REALLy looking for in their CRM tool and as a result, made their system more cumbersome for the user. Not Apptivo, they are deploying their system in the right way and there is no extra charge for excellent customer service! The Apptivo team closely manages my account and QUICKLY addresses any items that I want to change. This has been an excellent rollout!
Puntos a favor
Ease of use and customization is awesome! They have kept the system simple while implementing a number of dynamic and intuitive functions. The customer service is EXCELLENT! Most CRM companies just want to sell a boxed product and forget about the user. Apptivo takes the time to identify what the user truly is trying to accomplish and then customizing the software to precisely meet the users' requirements.
Desventajas
NONE! There are no cons with Apptivo! The system is EXCELLENT!
Razones para elegir Apptivo
ACT! is a waste of money! DO NOT BUY ACT!
Razones para cambiar a Apptivo
Better customization, easier to use, licensing was the least expensive, cloud-based, 24/7 customer service support at no extra charge.
Sector: Administración educativa
Tamaño de la empresa: 2-10 empleados
Software usado

A diario

durante

1-5 meses

Fuente de la opinión
Relación calidad-precio
5
---
New CMS software
Apptivo has enabled us to maintain and improve our diary management, transitioning away from a much more expensive older established CRM system, which now feels quite outdated and slow by comparison after just a few weeks of using Apptivo.
Puntos a favor
This product is easy to use, once you leave behind any legacy training from your old software! It also comes with an excellent APP which enables you to INSTANTLY access your diary anywhere you are. this is a big plus.
Once you understand the logic of the programme you realise there is a lot of functionality available to you. We will be picking up various new apps as we need them. this aspect is also helpful as you are not paying for anything you do not need.... until you need it!
Desventajas
Not a fault of the software, but our biggest challenge is simply unlearning how the old software worked, along with the absence of a right click function - which is the same for any browser based software.
Razones para elegir Apptivo
This product has an online web version but it is slow, cumbersome and with rather limited functionality which is really quite challenging to access online. We needed to be much more nimble and be able to access our diaries much more quickly and do not regret the move away from ACT.
Razones para cambiar a Apptivo
All the other options were far more costly / user with apparently similar functionality.