Sobre FreshBooks
FreshBooks takes billing out of your hands and puts it on autopilot. Set up automated invoicing, online payment options (ACH and Credit Card), and late payment reminders to get paid 2x faster. Next, boost team productivity with precise time tracking and collaborative project tools, so every minute, file, and conversation is tracked and logged. FreshBooks is a web-based accounting solution that caters to small businesses. FreshBooks serves various industries, such as marketing, legal services and business consulting, trades and home services and information technology (IT). Key features of FreshBooks include invoicing, expense tracking, time tracking, reporting and payments management. Users can brand their invoices, accept online payments and set auto payment reminders. Expenses can be tracked by attaching receipts to invoices, creating recurring expenses and taking snapshots of receipts. Financial statuses can be viewed through profit and loss statements, tax summaries and expense reports. FreshBooks categorizes credit card transactions fees and provides a summary of all deposits on its dashboard. The system's time tracking module can extract unbilled project hours into invoices, record billable time and provide an analysis of time spent on projects. FreshBooks can also be integrated with Paypal, MailChimp, Zenpayroll and Basecamp.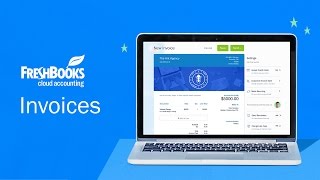 FreshBooks no tiene versión gratuita, pero ofrece una prueba gratis. La versión de pago de FreshBooks está disponible a partir de 7,50 US$/mes.
Precio inicial:
7,50 US$/mes
Detalles de precios:
Lite: $7.50/month - 5 clients Plus: $12.50/month - 50 clients Premium: $25/month - unlimited clients Custom pricing is available for unlimited clients and specialized features.
Alternativas a FreshBooks
Sector: Tecnología y servicios de la información
Tamaño de la empresa: 2-10 empleados
Software usado

A diario

durante

Prueba gratis

Fuente de la opinión
Relación calidad-precio
0
---
Invoices
En general bastante bueno, moderno y completo. Precio accesible para lo que tiene y lo que se puede hacer.
Puntos a favor
Una de las cosas que mas me gustó y que no he visto es otros software de CRM o facturas, es el estilo actual y diferente que tiene para crear las facturas, me parece innovador y es algo que seguramente te hará ver como una empresa grande y moderna ante tus clientes. Muy completo, integración con bastante cantidad de bancos para llevar el control de tus gastos.
Desventajas
Dos cosas me parece que le hace falta, lo primero es que el correo que se le envía al cliente debería contener un PDF con la factura, aparte del enlace para ir a la página y ver la factura en linea. La segundo que esperaba era poder agregar un método de pago como por ejemplo paypal, que permitiera a los clientes acceder a su cuenta paypal y pagar directamente el monto de la factura.
Sector: Seguridad informática y de redes
Tamaño de la empresa: 2-10 empleados
Software usado

A diario

durante

Más de dos años

Fuente de la opinión
Relación calidad-precio
5
---
Simple, yet powerful cloud based invoicing with project management
We still love Freshbooks for our day to day use. We use the totals and tax reports for our accountant who use another product to do the "real" accounting.
We use this for billing and the clients love it.
Puntos a favor
When we were small, we would use Freshbooks exclusively for invoicing (recurring is a life saver) and project management for invoicing our time.
We love the payment reminders (30, 60, 90 days)
Desventajas
Ticketing system was poor, so we use another program that will sync with Freshbooks.
Alternativas consideradas
Xero
Razones para cambiar a FreshBooks
We liked the simplicity and our outsourced partners were using it, so it was just easier all around.
Sector: Producción audiovisual
Tamaño de la empresa: 2-10 empleados
Software usado

A diario

durante

6-12 meses

Fuente de la opinión
Relación calidad-precio
4
---
Best Project Management for Small Business
If you ask me for a rating, I would give 8 out of 10. With a huge amount of features like invoicing, Client Portal, Contact Management, Expense Tracking, Project Management make your business easy to manage. For people who are trying to start a new business, I would recommend the FreshBooks at first.
Puntos a favor
FreshBooks is very easy to use and has so many features that help you manage your business in a short time. They have excellent customer services. The most fascinating thing about FreshBooks is it has also mobile app and the UI design is so eye-catching. They create attractive invoices for clients. Another coolest feature of FreshBooks is "Proposal". This feature allows you to show the work and writing space and attach your customize pictures.
Desventajas
Although you can hardly find cons in FreshBooks. But sometimes something grabs notice. I think the least likable thing about FreshBooks is limiting users. Only one user can use FreshBooks. And the other one is the price. I think as a small business management tool, it is a little expensive than others.
Razones para cambiar a FreshBooks
I thought I have a small business, so I don't need to start with a big company. I just wanted a simple tool that fulfills my needs. And found them in FreshBook. Another thing I should mention that makes me choose FreshBooks over the QuickBooks is the referral system. Though I didn't refer anyone yet.
Sector: Marketing y publicidad
Tamaño de la empresa: 11-50 empleados
Software usado

Mensualmente

durante

Más de dos años

Fuente de la opinión
Relación calidad-precio
4
---
Excellent invoicing software for the SMB
Overall, I can't recommend this software enough to any SMB. One thing that gets overlooked is how I've never experienced downtime. It's a really reliable product.
Puntos a favor
I appreciate how easy it is to set up a new client then invoice them with an option to pay online. It's also incredibly user-friendly for the client, so I never have to field questions like "where do I put in my credit card info again?" I also appreciate the companion app, which is not just a responsive version of the website. It's lighter on features but has all the features you need on the go.
Desventajas
This is minor, but I wish they would tell me when I reached the limit of new clients on my account before I tried to set up a new one. Currently, the process is that I set up a new client and when I push "submit" they direct me to upgrade my plan. That's annoying. Just tell me I'm at my limit before I put in my info so I can archive an old client first.
Razones para cambiar a FreshBooks
It was more expensive but it appeared less technical and easier to use. I'm really glad I chose freshbooks. Been a customer for 5+ years.
Tamaño de la empresa: 51-200 empleados
Fuente de la opinión
Relación calidad-precio
0
---
Not for everyone, or even most...
I've been using Freshbooks for the last couple of years, and at first it was a breath of fresh air after getting away from Quickbooks (both online and desktop version prior to that). If you don't have a proficiency for accounting, systems like Freshbooks are great, so I enjoyed the simplicity of it. The problem is - it's just way too simple and there are some major gaps in functionality. Additionally, it's a stagnant system. Very little improvements or features were tweaked or added in the system during the entire time I used it which is pretty unusual for a web based service.
Freshbooks shouldn't even call themselves accounting, because their forte really is in time tracking and invoicing. I now use Freeagent and wish I'd switched sooner.
If you don't care about tracking profit margins on projects or really tracking expenses accurately at all, then Freshbooks might work for you.
Puntos a favor
Freshbooks gets plenty right. Tracking billable time against customers or customer projects is a breeze, and their invoicing and methods for collecting payments is really hard to beat. Plus, they integrate with so many other services, it makes it really easy to get addicted to.
The things I love most - and the main reasons I'm glad that I left Quickbooks for Freshbooks is:
Automated invoice reminders, which are totally flexible. This alone saved me a lot of time chasing down late payers.
Your customers get a really nice interface for viewing all their invoices online - although I will say I think I only have one or two clients who ever even used the client portal for doing that. Most of them just go to their email to retrieve the links for invoices or statements, but it is still a really nice feature.
Desventajas
No connections to your banking / credit card accounts. You can do this with expenses to some extent, but it's just awful to work with, when compared to Quickbooks, Xero, FreeAgent - pretty much anyone else. In order to use Freshbooks, you have to have some other software or service for managing the accounting aspects of your business. This ended up being a bad thing for me. I like having it all connected, and there are plenty of great alternatives for that, and some even charge less than Freshbooks.
My reasons for leaving Freshbooks? Freshbooks is downright awful at expenses...
You can't record non-billable expenses against a customer or project. If you want to record the expense without billing the customer for it, you cannot assign it to the customer or project. No easy way around that without messing up your accounting records.
And with expenses that you DO want to rebill the customer for, there's no easy, intuitive way to handle marking up those expenses for goods or services to make a profit on. In order to do that, you must first add the expenses to the customer invoice, and then modify each line item expense amount up to the amount you want the customer to pay.
You cannot record bills as you receive them your vendors. Say for example, you get an invoice from a programmer who did work for you on 4 different projects in a given time period. Most vendors will just send you an itemized invoice with all the billable time across the various projects. Well, you can't record it that way in Freshbooks. Each line item on your bill must be entered into freshbooks one line item at a time, and you cannot correlate them easily to know that they are all part of one bill/invoice. Freshbooks also can't help you with managing when your bills are due. That's accounting, which Freshbooks doesn't do.
Freshbooks solutions to their shortcomings with expenses is all handled with hacks and workarounds for how their system is currently built. They are not easy or intuitive and they also throw things off with your accounting reports.