Sobre Zoho Projects
Zoho Projects is a cloud-based project management solution designed for small and midsize companies. It offers project scheduling and budgeting, which allows project managers to define project tasks, assign them to their teams, estimate project costs and follow up on in-progress tasks. Zoho Projects automates document processes such as revision tracking, access control and search and retrieval. Other product features include document management, which provides a portal for sharing documents within the team members. Zoho Projects also offers issue management features, which help managers resolve errors in the project tasks. Dashboards and reporting module helps users prepare business reports and management summaries. Users can use Gantt charts to get a visual presentation on the progress of tasks in comparison to what was planned. The resource allocation chart helps users know how many team members are free and how many are overloaded with tasks. Milestones and tasklists help users organize complex projects by breaking them into subtasks. Pricing is per month.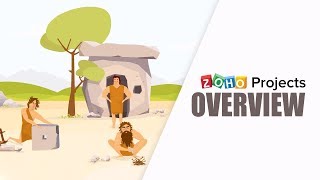 Zoho Projects dispone de una versión gratuita y ofrece una prueba gratis. La versión de pago de Zoho Projects está disponible a partir de 18,00 €/mes.
Precio inicial:
18,00 €/mes
Alternativas a Zoho Projects
Opiniones de Zoho Projects
Sector: Telecomunicaciones
Tamaño de la empresa: 11-50 empleados
Software usado

A diario

durante

Más de dos años

Fuente de la opinión
Relación calidad-precio
5
---
Zoho Projects, Software para el control de proyectos
Es una herramienta muy buena para trabajar individual y colectivamente para coordinar proyectos entre varias personas ayudando a que haya un control sobre el proyecto y se reduzcan las desviaciones.
Puntos a favor
Te permite llevar un control de las tareas, horas y te ayuda a evitar que los proyectos se desvíen. Es u software muy versátil, puedes utilizar algunas funciones para que sea bastante simple y funcional y al mismo tiempo se pueden establecer parámetros más complejos adaptándose a las necesidades de cadaempresa. También se puede conectar con otro programa de facturación como Zoho Books, para evaluar horas de los empleados y coste de las materias primas y sacar la de rentabilidad de cada proyecto.
Desventajas
Hay muchísimas opciones para configurar, para sacarle el máximo partido vas a necesitar contactar con alguna empresa Partner de Zoho para que te hagan la implementación. Los partners premium son las empresas más grandes y por tanto los más experimentados.
Sector: Marketing y publicidad
Tamaño de la empresa: 11-50 empleados
Software usado

A diario

durante

Más de dos años

Fuente de la opinión
Relación calidad-precio
5
---
Exelente gestor de proyectos por un precio muy accesible
Muy buena.
Puntos a favor
La facilidad de integración con el CRM. La capacidad para albergar diferentes managers en un mismo proyecto.
Desventajas
La interfaz no es muy intuitiva y el refresco de página y datos es lento, se debe actualizar el navegador.
Alternativas consideradas
Jira
Razones para elegir Zoho Projects
Por la complejidad de MSproject
Razones para cambiar a Zoho Projects
Por el precio e integracion con otros softwares
Sector: Ropa y moda
Tamaño de la empresa: 1.001-5.000 empleados
Software usado

A diario

durante

Más de dos años

Fuente de la opinión
Relación calidad-precio
5
---
Excellent tool for task management
My overall experience is great with Zoho projects, it works fine if given the right technology support. In past three years we have done multiple updates and customization on Zoho projects and they have worked well for us. I personally would recommend Zoho projects to others to built a very good project management tracking system.
Puntos a favor
Zoho projects has been part of our organization from past 3 years. It is a very useful tool for project management. It has high importance in task management especially in tracking down deliverable in kanban projects. The user interface is very friendly and the dashboard is highly interactive. Milestones can be easily set and can be tracked throughout its completing period. Project lags, time delays, and bottlenecks can be identified easily in the system. This tool also helps to manage teams and individual tasks assigned to each person. Notifications can be enabled to track individual performances. Overall, this tool is multi-purpose tool that can perform wide range of tasks.
Desventajas
Zoho projects are hard to customize. Its scalability is very limited to certain tasks. It is good in project management, but it fails to provide a communication channel between people. Chat windows lag a lot between communication and real time forums take lot of time to update. Zoho requires high internet bandwidth, slow internet creates problem with updates and Zoho starts lagging. Multi user portal has also lot of issues. Even multi user portal is a common feature. The feature creates issues with file sharing. It takes lot of time for file transfers.
Sector: Tecnología y servicios de la información
Tamaño de la empresa: 10.000+ empleados
Software usado

A diario

durante

Más de dos años

Fuente de la opinión
Relación calidad-precio
5
---
This easy-to-use app keeps track of chores and projects quickly
I really like the functions, the tools, and everything else that this software provides us with in order to manage a project. Those tools are really useful and important at the moment in order to manage a project and collaboration, and this software, it's absolutely useful if you want to manage like a professional.
Puntos a favor
Zoho projects have a number of great features, but one of my favorites is the option to personalize the parameters for the project management. In addition to being incredibly simple to operate, the customization function meets the vast majority of the needs that my firm has in regard to project management.
Desventajas
Zoho Projects is, without a doubt, one of the least user-friendly and most aggravating pieces of software I have ever worked with. It has some of the worst user experience and interface (UI) that I have ever seen, and it is missing some of the most fundamental capabilities that a project management software ought to have. It has been nothing but a hassle from the beginning to the end.
Sector: Tecnología y servicios de la información
Tamaño de la empresa: 51-200 empleados
Software usado

A diario

durante

6-12 meses

Fuente de la opinión
Relación calidad-precio
2
---
Better not use it!
My team had horrible experience using it and their customer support is poor too. I don't recommend using this when we already have a lot of options around.
Puntos a favor
Time tracking and task automation comes to help while other features are par behind.
Desventajas
Very messy and complicated to use. It was never user friendly and thew workflow isn't synced well.