Sobre Workday HCM
Workday HCM assists global businesses of all sizes in a variety of industry verticals with workforce planning, analysis, and execution. Workday delivers user and administrative tools such as financial management, HR planning, talent sourcing, payroll processing, reporting and more from a unified portal. Workday Human Capital Management (HCM) includes human resource management, workforce planning, recruiting, compensation, benefits, time and attendance, learning and more. Workday also offers a module for educational institutions that includes recruiting and admissions, curriculum management, records, advising and financial aid tracking. With Workday HCM, recruiters and managers can build new teams by finding skilled workers through integrated talent searching and job profiles. The built-in HR component allows users to manage time-off and absences through a self-service employee interface that includes time-off requests and reporting, time-tracking, and policy automation. Users can also visualize organizational structures, manage both full-time employees and temporary employees, as well as configure workflows and define end-to-end business processes. Who uses Workday HCM? Workday HCM is mainly used by CHROs within mid-size to large enterprises across the telecommunication, education, financial services, healthcare, manufacturing, non-profit, retail and technology industry verticals. Additionally, Workday HCM provides mobile applications for both iOS and Android devices.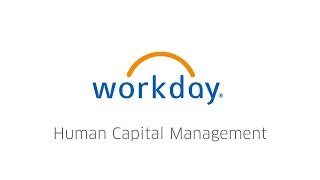 Workday HCM no está disponible en versión gratuita y no ofrece prueba gratis.
Precio inicial:
Sin información del proveedor
Alternativas a Workday HCM
Sector: Consultoría de gestión
Tamaño de la empresa: 10.000+ empleados
Software usado

A diario

durante

Más de un año

Fuente de la opinión
Relación calidad-precio
5
---
La gestión de equipos centralizada
En general, el producto cumple su función principal más allá de lo malo que puede ser la navegación.
Puntos a favor
La herramienta es vital para el desempeño de mis funciones diarios, pues toda la gestión de equipo se lleva a través de Workday. Allí se recolectan las métricas y se tiene una trazabilidad de los accionables que cada contribuidor va ejecutando a lo largo del año fiscal.
Desventajas
Lo único malo ha sido el diseño de la interfaz que no es tan amigable. Sufre uno tratando de navegar, pues carece de ciertos elementos de arquitectura de información y en algunos caso se rompen algunos componentes UI
Sector: Software informático
Tamaño de la empresa: 501-1.000 empleados
Software usado

A diario

durante

Más de un año

Fuente de la opinión
Relación calidad-precio
0
---
Best HR tool a company can use
Puntos a favor
My favorite aspect of Workday is the User Interface. The software is very easy to navigate for any user, and requires almost no training.
I also love the personnel reports I can pull through Workday with our HRIS specialist.
Desventajas
The Workday implementation took a long time. It took months before the Workday team could implement this software for us to go live.
Sector: Seguros
Tamaño de la empresa: 10.000+ empleados
Software usado

Semanalmente

durante

Más de dos años

Fuente de la opinión
Relación calidad-precio
5
---
Great Tool for People Management and is Very Easy to Use
Workday HCM has been excellent. Very easy to use, lots of capabilities, and allows employees and team members to use the software to learn more about themselves and opportunities. It has been great for learning about my performance and seeing how I can grow and succeed. Whenever I see my payroll, I also always check the breakdown to see if everything is correct. I love the transparency and all the good documentation in the software, so nothing is lost on your employee file.
Puntos a favor
I like how intuitive the software is in the company and how easy it was implemented and adopted by the company. There are many, many features that are very useful for the day-to-day or week-to-week activities of our employees and team. I really like how every step is transparent and it shows you the hierarchy each decision goes through. For example if you are taking time off, it shows you who needs to approve next and the chain of command. This software is really a one stop shop for all Human Capital management in terms of performance, payroll, expenses, time off, training, and career management.
Desventajas
I actually don't have any negative things to say about workday HCM. It is really easy to use, and the documentation is really good on my employee file. If I need something, I can find it on my profile.
Sector: Software informático
Tamaño de la empresa: 501-1.000 empleados
Software usado

Semanalmente

durante

Más de un año

Fuente de la opinión
Relación calidad-precio
0
---
Feels unfinished
Puntos a favor
Smooth onboarding process. All given information was clear
Desventajas
For me it felt a bit unfinished. Some of the pages had no purpose
Sector: Tecnología y servicios de la información
Tamaño de la empresa: 1.001-5.000 empleados
Software usado

A diario

durante

Más de dos años

Fuente de la opinión
Relación calidad-precio
5
---
Workday Lifts your HR process
It has been great
Puntos a favor
Almost everything. time tracking, recruitment, employee onboarding, alerts, approvals, etc
Desventajas
Can customise and improve the Q&A forms. Provide more flexibility
Razones para elegir Workday HCM
Workday and its vast range of features
Razones para cambiar a Workday HCM
Features offered were very good