Sobre Zoho Inventory
Zoho Inventory is a cloud-based inventory management solution designed for small to midsize businesses. It features inventory management modules including reporting and analysis, vendor managed inventory and lot traceability. It features mobile compatible apps for Android and iOS devices. Zoho features built-in shipment estimating, tracking and delivery confirmation features that allow users to invoice, ship and track products. The solution allows users to create purchase orders, backorders and drop shipments. Users can track every item in the inventory with serial number and batch tracking feature. Zoho Inventory integrates with multiple e­-commerce sites such as eBay, Etsy and Amazon. It is priced at a monthly subscription based on the numbers of orders processed per month. As a Zoho product, the solution is integrated within the Zoho Finance Suite. As such, it features integration with books, Zoho's accounting and bookkeeping solution. Pricing is based on a monthly subscription basis.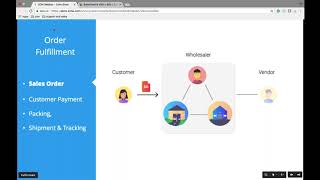 Precios de Zoho Inventory
Zoho Inventory dispone de una versión gratuita y ofrece una prueba gratis. La versión de pago de Zoho Inventory está disponible a partir de 59,00 US$/mes.
Alternativas a Zoho Inventory
Opiniones de Zoho Inventory
Sector: Comercio minorista
Tamaño de la empresa: 51-200 empleados
Software usado

A diario

durante

1-5 meses

Fuente de la opinión
Relación calidad-precio
5
---
Buena solución
Fue poca, probamos un tiempo el uso de esta herramienta pero no se adecuo a nuestras necesidades y se optó por un desarrollo propio
Puntos a favor
Me gusto, te permite administrar muy bien pedidos e inventarios sin embargo no es una aplicación que se adecuase a las necesidades que teníamos
Desventajas
Al momento de implementar nos resultó difícil de entender, quizá necesita mejor soporte pero fuera de eso, todo en orden
Sector: Semiconductores
Tamaño de la empresa: 1.001-5.000 empleados
Software usado

A diario

durante

Más de un año

Fuente de la opinión
Relación calidad-precio
4
---
Robust inventory management tool
Provides a wide variety of functions to optimally manage inventory tracking.
Puntos a favor
Facilitates tracking of products at all stages through a verification and logging mechanism for employees. Allows you to generate reports for real-time analysis, enabling you to review, track and manage supplies efficiently. The suite of integrations it offers is simple to perform and very productive. With bar code scanners you can be very accurate in collecting data on products in stock.
Desventajas
It was a bit complicated to finalize the integration with some third party platforms.
Sector: Hospital y atención sanitaria
Tamaño de la empresa: 11-50 empleados
Software usado

A diario

durante

Más de dos años

Fuente de la opinión
Relación calidad-precio
4
---
Practical, economical option for Inventory Management
Functional company, hands on management. Can write to them any time, it's a different thing that they don't reply, but get the ball moving through their team !
Puntos a favor
Practical features that are used by any warehouse daily, pick list, packing list, item management, batch / serial number management etc... all in all a complete package for warehouse management.
Desventajas
Can be more economical due to scale of zoho, they could pass some more discount to clients.
Razones para cambiar a Zoho Inventory
Complete solution / package to run a business, not only inventory management.
Sector: Muebles
Tamaño de la empresa: 2-10 empleados
Software usado

Otro

durante

Más de dos años

Fuente de la opinión
Relación calidad-precio
1
---
Shopify users, beware of Zoho!
Impossible to contact the dev team, even by email, which would have saved me two years of lost development time on my end. There is not even an effective communication channel between Customer Support and their own development team. It's one of those "I.T. doesn't talk to inferior beings" outfits. You know the type.
Low integrity: If you make a mistake and misguide a paying customer, accept responsibility and issue a refund. It's the very least they could have done.
Puntos a favor
On paper, Zoho had all the flexibility and scalability we were looking for, but it turns out that it is incompatible with a Shopify store that has more than a few months of data. It won't import the data. This is not a misunderstanding and there is no workaround. Details below.
Desventajas
We bought it to be our CRM and Inventory Management System for our Shopify office furniture store. On installation, it would only import the last two months of transactions from Shopify. That's a disaster. For all of our regular customers, they'd have two accounts and we'd have to look in both places to find a past order, not to mention re-creating all of their account data by hand in the new system if they hadn't purchased in the last two months, and we'd have no idea what their lifetime value was.
Zoho support was sure I had done something wrong. It took weeks for them to decide that Shopify was the problem. They told me Shopify was blocking the export of the data. So I called Shopify. They told me (in an hour) that they have an automatic block to prevent hacking but all Zoho had to do was to call them and they'd unblock them!
Over a period of weeks, I tried to get to the right department to tell the install team or dev team about this, and no one seemed to know what I was talking about. They kept insisting it was a Shopify problem. A support rep got back to me a few months later and said the limitation had actually been built into Zoho and it would be fixed in the next version update. So, foolishly, I kept paying. I kept checking in and finally, two years later, they told they have no plans to fix this problem, and no, I couldn't have a refund even though I was waiting for them to fix what they told me they would fix, and had never used the product.
Sector: Seguridad informática y de redes
Tamaño de la empresa: 2-10 empleados
Software usado

A diario

durante

Prueba gratis

Fuente de la opinión
Relación calidad-precio
5
---
Build ecommerce with google merchant store integration
Zoho inventory is backbone for google merchant store integration and other Market Place. Can Monitor everything through single window
Puntos a favor
Easy google merchant store integration
Mails for automatic inventory reports
Market place integrations are available
Desventajas
Free trial can't be used for a small lingerie shop
Difficult to enter measurement
Razones para elegir Zoho Inventory
Difficulty to integrate other market place and Google Merchant Centre
Razones para cambiar a Zoho Inventory
Market Place Facility and Google Merchant Centre