Sobre Hubstaff
Whether businesses are starting up a new team or looking for a better way to manage employees, Hubstaff has everything required to run teams confidently. With the innovative and robust time tracking and task management solution, enterprises can track their team's time with in-depth timesheets, GPS tracking and project management using the tasks module. As employees track time with the lightweight desktop, web, iOS and Android applications, enterprises will be able to monitor their activity with time tracking, optional screenshots and app tracking, mouse and keyboard usage and even on-site time with geofences. Hubstaff allows team leaders to view detailed reports, send client invoices and even pay employees directly based on their work hours and customizable pay rates. With over 30 application integrations like Basecamp, Trello, Asana, Github and Paypal, Hubstaff seamlessly fits in with multiple businesses, meaning users can work without any interference in their day-to-day operations.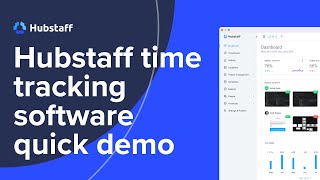 Hubstaff dispone de una versión gratuita y ofrece una prueba gratis. La versión de pago de Hubstaff está disponible a partir de 7,00 US$/mes.
Precio inicial:
7,00 US$/mes
Sector: Medicina alternativa
Tamaño de la empresa: 1.001-5.000 empleados
Software usado

A diario

durante

1-5 meses

Fuente de la opinión
Relación calidad-precio
0
---
Genial
Puntos a favor
Ver mi productividad, y las capturas de pantalla, me ayuda para la Dayli en mi reunión SCRUM
Desventajas
A veces se me olvida marcar el tiempo, sería bueno añadir un recordatorio cuando se vea que está haciendo actividad uno, por ejemplo, no tienes activado hustaff, ¿deseas activarlo?
Respuesta de

Hubstaff

Hi Selvin, thanks for reaching out! Please check out this article: https://support.hubstaff.com/reminder-track-time-start-timer-desktop-application/. You'll find the step-by-step process for setting time tracking reminders there. Let me know if this works for you and if you need more assistance. Thanks and stay well!

Respondido el 31/1/2022
Sector: Edición
Tamaño de la empresa: 2-10 empleados
Software usado

Semanalmente

durante

1-5 meses

Fuente de la opinión
Relación calidad-precio
0
---
Juan Pedro
Puntos a favor
No tenía conocimiento de este tipo de herramientas, Espectacular!!
Desventajas
No puedo poner ningún tipo de pega a este productos, estoy encantado!
Sector: Entretenimiento
Tamaño de la empresa: 2-10 empleados
Software usado

A diario

durante

1-5 meses

Fuente de la opinión
Relación calidad-precio
5
---
The best solution for integrated task management and thorough time tracking and reporting.
Very happy I moved from Time Doctor to Hubstaff. Huge improvements on all areas and a satisfying product to use. The experience is so good that I find myself wanting to stay with Hubstaff regardless of whether my need for time tracking reduces.
Puntos a favor
- Integrated Task Management platform (Hubstaff Tasks) allows for agile style task management that feeds appropriate tasks to user's timers.
- Nice user interface
- Good reporting functions
- Thorough tracking options
- Client/project budgets
- Very good Customer Support
Desventajas
- I discovered some bugs during usage (which the developers have ironed out)
- Time off / holiday allowance policy function is a great addition, but doesn't allow enough granularity as decimals of hours (or minutes) can't be used.
Razones para elegir Hubstaff
More accurate and granular control of task management needed. Also felt that Time Doctor was outdated from a UI perspective.
Razones para cambiar a Hubstaff
Combination of functionality (thorough time tracking and agile task/project management), pricing, user experience and reviews.
Respuesta de

Hubstaff

Hey Ewan, hope all is well with you and thank you for the kind words. You can now request time off exactly down to the minute. Cheers!

Respondido el 31/1/2022
Sector: Diseño
Tamaño de la empresa: 11-50 empleados
Software usado

A diario

durante

Más de dos años

Fuente de la opinión
Relación calidad-precio
4
---
Using Hubstaff for 5 years more. Seem it has improved!
Really just fine. What more should I look for as a freelancer who just need to track time for a project. Then send a a simple invoice at the end. As far as I'm concerned, I have a good experience with the app. If I have to suggest, maybe as a UX/UI Designer, they can enhance the looks an feel of the software to make it more professional and appealing to users.
Puntos a favor
Straightforward. Just the thing you need, you'll find it. Pretty much like any other time tracking software - as freelancer it has screen capture, invoicing, offline tracking and all...
Desventajas
It's just straight forward. Maybe they can add quick chat for client. Instead of additional login to browser when you need to quick communicate with your client.
Respuesta de

Hubstaff

Hey Roldan, thank you for submitting this review for Hubstaff! We are happy to hear that you are enjoying using Hubstaff for your time tracking needs.

We want to continually improve the platform and our offerings, so we do welcome all feedback onboard. Please feel free to go to https://roadmap.hubstaff.com/ and add any ideas for features to be implemented.

Respondido el 29/3/2022
Sector: Producción audiovisual
Tamaño de la empresa: 2-10 empleados
Software usado

Semanalmente

durante

Más de dos años

Fuente de la opinión
Relación calidad-precio
5
---
My experience with Hub Stuff for over 4 years
Puntos a favor
Ease of use, flexibility and availability at all times
Desventajas
The large amount of reports and their presentation format :)
Razones para cambiar a Hubstaff
I work on both systems, but for remote work I rely on Hapstaff
Respuesta de

Hubstaff

Hello Abdullah,

Thank you for leaving us this review for the platform. Indeed, at the moment, we do have a large number of different reports that are used to provide detailed information about a specific aspect of the time tracked on the organisation.

However, please keep in mind that we are in the process of releasing Hubstaff Insights, which is a paid add-on for Hubstaff, that offers analysis of various different reports together, using parameters set up by the organisation that utilises this add on. I believe this will be of great benefit to both yourself and other users, or organisations, that are wanting to have a quicker and easier way to analyse the information recorded by Hubstaff.

For more information about the add on, we do have the following support article here - https://support.hubstaff.com/hubstaff-insights-add-on/

Respondido el 14/11/2022