Sobre Freshsales
Freshsales is a salesforce automation solution that enables businesses of all sizes to streamline lead management, client interaction, marketing insights, customer relationship management and other operations. The platform enables organizations to design custom workflows with event-based triggers to automate repetitive tasks. Freshsales allows teams to create custom sales pipelines based on geographies, team, processes or other criteria and maintain a product catalogue with pricing, discount and tax information. It offers a host of features like customizable email templates, sales goals management, predictive contact scoring, sales forecasting, audit logs, role-based access and more. Additionally, administrators can view and track KPIs, teams' performance, sales, client communication and other data via the analytics dashboard. Freshsales facilitates integration with numerous third-party applications such as Microsoft Outlook, PandaDoc, Xero and more. It is available on monthly/annual subscriptions and support is provided via phone, email and other online measures.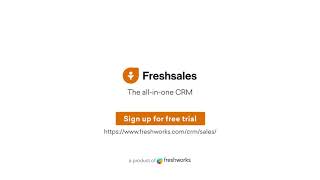 Freshsales dispone de una versión gratuita y ofrece una prueba gratis. La versión de pago de Freshsales está disponible a partir de 15,00 US$/mes.
Precio inicial:
15,00 US$/mes
Alternativas a Freshsales
Sector: Producción de alimentos
Tamaño de la empresa: 51-200 empleados
Software usado

Semanalmente

durante

Más de dos años

Fuente de la opinión
Relación calidad-precio
5
---
Un sofware muy excelente.
Puntos a favor
"Este artículo se ha convertido en mi negocio o compañero de equipo. Las mejoras continuas y la escalabilidad funcional de este software brindan procedimientos convenientes de seguimiento, planificación y auditoría".
Desventajas
"Para impugnar un cargo que no modificarán, tuve que ponerme en contacto con el proveedor de mi tarjeta de crédito y desactivar mi tarjeta. De forma predeterminada, la facturación automática está activada para la cuenta".
Sector: Estudios de mercado
Tamaño de la empresa: 2-10 empleados
Software usado

A diario

durante

Más de un año

Fuente de la opinión
Relación calidad-precio
4
---
Great CRM Platform for Startups and Growing Businesses
Aside from the onboarding process, we enjoy using Freshsales and believe it's worth it to manage your contacts and leads. Freshsales is a great platform to use with any sales pipeline.
Puntos a favor
When I started using Freshsales with my team, we get amazed with the simplicity of the CRM and the flexibility of features and options with each contact. Also, we enjoyed the integration with Freshdesk support and assistance platform.
Desventajas
The onboarding was a little bit long, it took around 3 days, even though we started with a few contacts by then. I hope they improve the onboarding time or change the methodology to enroll using Freshsales.
Razones para elegir Freshsales
Bitrix24 interface was overwhelming for our team.
Sector: Maquinaria
Tamaño de la empresa: 11-50 empleados
Software usado

A diario

durante

Más de dos años

Fuente de la opinión
Relación calidad-precio
5
---
Freshsales suite fulfills our needs
Overall experience is good. Now that we are on an enterprise plan, support is good. When we were not enterprise client, the support was often slow.
Puntos a favor
This product offers a lot of features and does offer a multi-touchpoint approach. Email journeys, Whatsapp integration, Chatbots, SMS...
Desventajas
I miss if/than functionality in workflows. That would greatly reduce the manual work when setting up the workflows and adding new conditions.
Another thing that I do not like is the policy and the pricing related to the marketing contacts. All plans have the limitation of 1000 marketing emails per month. This can be quickly exceeded especially if you are sending newsletters to your contacts. There is an option to upgrade, but that is way too expensive and completely unscalable when a business grows. We have overcome that with integrating CRM with SMTP service that takes over this part and is calculated on the number of emails sent.
Razones para cambiar a Freshsales
We were using Freshsales for 2 years now. We searched for alternatives, but we saw that Freshsales serves all our needs.
Sector: Hardware informático
Tamaño de la empresa: 11-50 empleados
Software usado

A diario

durante

Más de dos años

Fuente de la opinión
Relación calidad-precio
0
---
Missing things rivals do well
Not great. Customer service is excellent, though!
Things I think should be basic (or I used in Pipedrive) just don't exist or don't work in Freshsales.
Puntos a favor
What it has is pretty easy to use, and finally with the addition of timeline view, getting different views is good. Creating reports is not easy, although very powerful.
Desventajas
Mail integration is pointless for me. If set to 'auto', all emails from a client appear on all of their deals, rather than having intelligent algorithms that are deal-specific. Also, no search function on email page immediately makes have email sync pointless for me.
Sync is slow. I can add a deal, or a contact, but often won't appear in searches for a long time, so I can't start linking emails or creating new deals.
Sector: Recursos Humanos
Tamaño de la empresa: 2-10 empleados
Software usado

A diario

durante

Más de un año

Fuente de la opinión
Relación calidad-precio
3
---
Freshsales review by Nick Chambers
Managing email campgins in a personalised and professional way. Keeping track of and updating changes in circumstances to our correspondents in real time. Filtering contacts according to specific criteria.
Puntos a favor
The customer support - without it we could not have implemented and continue to find new ways of applying it to manage our relationships and grow our business
Desventajas
That you cannot create a list of contacts to email straight from your inbox. We often need to send semi standardises responses to several contacts awaiting a reply. At the moment it is not possibe to select and set them up for a bulk email. This would save us a lot of time if you created this very simple feature.
Razones para cambiar a Freshsales
Because the testing process was so efficient and userfriedly and we never felt alone though out and we made the right choice because customer support has continued to be so good since the purchase.