Sobre LiveAgent
LiveAgent es un software de soporte técnico con todas las funciones. Empresas como BMW, Yamaha, Huawei, Orange o Forbesfone utilizan LiveAgent para ofrecer al cliente resultados asombrosos, a 150 millones de usuarios finales en todo el mundo. Únete a ellos y obtén una ventaja competitiva. Comienza con una prueba gratis de 14 días, sin necesidad de tarjeta de crédito, sin contratos. LiveAgent es un software multicanal de soporte con abundantes funciones, más de 180, incluidas chat en vivo, soporte telefónico, integraciones con redes sociales, portal del cliente y API.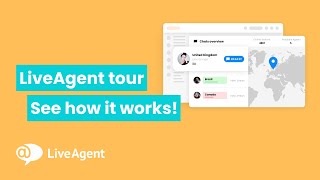 LiveAgent dispone de una versión gratuita y ofrece una prueba gratis. La versión de pago de LiveAgent está disponible a partir de 15,00 US$/mes.
Sector: Materiales de construcción
Tamaño de la empresa: 51-200 empleados
Software usado

A diario

durante

1-5 meses

Fuente de la opinión
Relación calidad-precio
0
---
Great Features & Great Speed
LiveAgent is helping us convert initial chat enquiries visiting our website into qualified sales leads. We provide a niche product to the very top of our market so being able to qualify enquiries at this initial stage is important to us. The other key outcome is LiveAgent has no impact on our site loading speed. We identified ZenDesk, our previous chat solution, was impacting out site loading speed - and therefore potentially impacting our SEO strategy. From a free trial, we found LiveAgent has zero impact on our site loading speed - we now have a better chat solution AND a faster loading webiste.
Puntos a favor
We use LiveAgent to manage chat conversations on our website with the aim of converting initial enquiries into qualified sales leads. There is afar great functionality than our previous chat software solution and is far more customisable, with options to brand and personalise it to our business. The other key feature for us is that it is the number one ranked chat widget for website loading speed, an important part of our SEO strategy.
Desventajas
There is so much more functionality and ability to personalise LiveAgent than our previous chat software (ZenDesk) so set up took a little longer - but the ultimate outcome has been far superior.
Respuesta de

QualityUnit

Hello Barney, many thanks for your great review! It means a lot to us and we are super thrilled to hear that you are happy with the platform and the chat solution LiveAgent is offering. We understand that it is necessary to manage all the tickets from the very beginning as each customer is important and should be taken the best care of and that is why LiveAgent makes sure that no ticket is skipped or left out! Just remember that our support team is always ready to help so feel free to start a chat on our website should you have any questions! :)

Respondido el 25/3/2020
Sector: Juegos de azar y casinos
Tamaño de la empresa: 51-200 empleados
Software usado

A diario

durante

Prueba gratis

Fuente de la opinión
Relación calidad-precio
5
---
Very good pricing structure.
Overall for the price it is a good tool and has very fast and helpful support.
Puntos a favor
LiveAgent is easy to use and what I most like about the software is that it pricing is divided by functions, for example, the basic plan includes email support which is the one my company needs because we support only email channels.
I liked Rules feature the most, it allows to set up automated workflows for more efficiency.
Desventajas
Other panel themes does not look good, dark version for example is very basic kind of old.
Also once you set SLA levels it is confusing - only Importance changes and only if there is resolve SLA set.
Razones para cambiar a LiveAgent
Because of price and because CSAT feature for the email is included in the basic plan.
Respuesta de

QualityUnit

Hello Nutsa! Thank you for your kind words about LiveAgent! We're proud to offer a product that is both affordable and high-quality. As for the UI and Themes, we're currently working on some UI improvements and we can't wait to show you the results :) Stay tuned!

- LiveAgent Team

Respondido el 23/9/2022
Sector: Marketing y publicidad
Tamaño de la empresa: 11-50 empleados
Software usado

A diario

durante

Más de dos años

Fuente de la opinión
Relación calidad-precio
3
---
Mediocre lifecycle management
It has been from more to less. In the last 3 years has barely evolved (if not regressed), not being anymore a market leader. If I still haven't changed is due to all integration I have already done with the app.
Puntos a favor
It's a really useful omnichannel tool, which requires mid-size effort to configure and obtain an inmediate profit.
Desventajas
Development and support are on their own. They add/ change / delete functionalities without further notice. It's quite frustrating when a given morning your agents tell you that something you have been using for years is not working and when you reach support team responds saying that this feature never existed, as you are idiots.
This issue could be easily solved if product team would submit a regular/weekly email with the content of the product roadmap, so teams can addapt in advance their operation to deleted/changed/added functionalities.
Razones para cambiar a LiveAgent
price affordable and worthy features
Respuesta de

QualityUnit

Hello Alberto, thank you very much for your honest review. We are happy to see that you find LiveAgent a useful omnichannel tool but at the same time, we are also very sad to hear about your negative experience.
We are gathering the suggestions and features requested from our customers plus we have some internal initiatives to keep the growth of our solution. Recently we have been slowed down by a code refactoring that cannot be seen by users as an immediate improvement, but it's very important in a long term.
All the changes can be found here in our changelog -> https://dev.ladesk.com/ and also in our blog post here -> https://www.liveagent.com/blog/news/ which is highlighting the most significant changes. Anyways, I will pass your feedback about the potential improvement of sharing the details about upcoming changes to our manager. I am again very sorry if there has been any change that caused you any inconvenience.

Respondido el 30/11/2021
Sector: Tecnología y servicios de la información
Tamaño de la empresa: 10.000+ empleados
Software usado

A diario

durante

Más de dos años

Fuente de la opinión
Relación calidad-precio
4
---
LiveAgent is professional for agent and customer
It's excellent that customers may leave a note or utilize the knowledgebase to solve issues when agents are unavailable (for example, outside of business hours). It's great that many people may work on a ticket at once, and we can all see who's working on what and how they've responded.
Puntos a favor
Just do it! Superb assistance, interesting and expertly presented content, and a thoroughly professional demeanor throughout. Because of how user-friendly it is for salespeople and consumers alike, our business has no plans to switch providers. Many customers have been helped by a live person who answered their concerns or resolved their issues immediately, eliminating the need for them to wait on hold.
Desventajas
It's not like I love the pause button or anything. I'd rather have the option of setting an away status that sends a busy signal to the customer while I take a quick break for whatever reason (comfort, food, etc.). However, the IT assistance is excellent, and while I agree that some features, like scheduling store hours, are overly difficult, I appreciate the effort.
Respuesta de

QualityUnit

Hello Sarah, thank you very much for your amazing review! We appreciate you sharing your feedback with us and we are thrilled to see you satisfied with our solution not planning to switch to any other provider. Feel free to send us more details about how exactly you imagine the feature of setting an away status via chats on our website and we will be happy to report it to our developers for our future improvement. Until then, you can put yourself on pause at any time so that no chats/calls would ring to you and your colleagues could also see that you are currently on a pause. You can also reach us via email at [email protected] at any time! :)

Respondido el 24/6/2022
Sector: Software informático
Tamaño de la empresa: 11-50 empleados
Software usado

A diario

durante

Prueba gratis

Fuente de la opinión
Relación calidad-precio
0
---
HelpDesk under one roof
Support was good once we got in touch with the right people. The product has a lot of features, but not always terrible clear how to implement them.
Puntos a favor
We like that chat, ticket management, and our IVR can be managed with a single pane of glass.
Desventajas
We are still a bit confused on how to implement some features.
Respuesta de

QualityUnit

Hello Ross :)Thank you so much for your positive review! We're glad to hear that our customer support was able to help with implementation of LiveAgent's features.

- LiveAgent Team

Respondido el 16/9/2022