Sobre LiveAgent
LiveAgent es un software de soporte técnico con todas las funciones. Empresas como BMW, Yamaha, Huawei, Orange o Forbesfone utilizan LiveAgent para ofrecer al cliente resultados asombrosos, a 150 millones de usuarios finales en todo el mundo. Únete a ellos y obtén una ventaja competitiva. Comienza con una prueba gratis de 14 días, sin necesidad de tarjeta de crédito, sin contratos. LiveAgent es un software multicanal de soporte con abundantes funciones, más de 180, incluidas chat en vivo, soporte telefónico, integraciones con redes sociales, portal del cliente y API.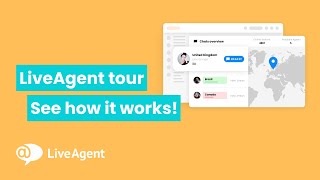 LiveAgent dispone de una versión gratuita y ofrece una prueba gratis. La versión de pago de LiveAgent está disponible a partir de 15,00 US$/mes.
Detalles de precios:
14 Días de Prueba Gratuita, no se requiere tarjeta de crédito. Precios de LiveAgent: Gratis: $0/agent/month Ticket: $15/agente/mes Ticket + Chat: $29/agente/mes Todo incluido: $39/agente/mes
Mira los planes de precios
Sector: Ocio, viajes y turismo
Tamaño de la empresa: 11-50 empleados
Software usado

A diario

durante

6-12 meses

Fuente de la opinión
Relación calidad-precio
5
---
B2B portfolio management
I thought it was going to be a more difficult change or that the system was not going to adapt to our business due to its low cost. Pleasantly I can say that the experience has been very good: the whole organization has quickly acquired it and helps us to work more orderly and with the peace of mind that information is not lost among so many communication channels, since LiveAgent centralizes almost all of them.
Puntos a favor
What I like most about LiveAgent is that we didn't lose the personalization that our business requires, on the contrary, we managed to improve it by being more agile with response times by removing the dependence on responses and email forwarding with many people in CC to handle a single sale.
All the actors in the sales process can participate simultaneously if necessary, centralizing and keeping the information available to everyone.
The tagging system of the tickets is very useful when prioritizing, the departments and the assignment allow to order and define who is responsible at each stage.
We can set up our own ticket and contact fields, so we can manage the software as we need to.
Finally, the biggest beneficiary is our client, who receives a better service.
Desventajas
I would like to be able to mention an agent who receives a notification about any comment on the ticket. Anyway, the system has a chat or an internal call that can be made about the tickets and they help a lot when it comes to teamwork.
Respuesta de

QualityUnit

Thank you so much for your kind and complex feedback, Federico! I am thrilled to hear that LiveAgent plays a role in the improvement of a way that your business handles customer support! Our software is making sure that no ticket will be missed or skipped and it also allows all the agents to see who is working on which ticket so that agents can easily avoid double-work! We also wanted to make sure that LiveAgent will be affordable for any business regardless of its size! :) Just know that you can always reach us 24/7 via chat on our website! :)

Respondido el 1/4/2020
Sector: Tecnología y servicios de la información
Tamaño de la empresa: 2-10 empleados
Software usado

A diario

durante

Más de dos años

Fuente de la opinión
Relación calidad-precio
5
---
Huge platform with many possibilties.
I have been using LiveAgent for a couple years and find it an excellent choice, you will be able to easily keep tabs on clients. If you work with a team it brings many gamification badges and all kinds of professional ticket routing features. It also includes many reporting features which are important to keep tabs on how your team and clients are working. LiveAgent also includes many automation possibilities through both no-code SaaS such as Zapier and their own API/Webhooks and Rules automations.
Puntos a favor
I mostly use LiveAgent to keep email tickets for my support contracts. However I can see the huge potential it brings as a full-fledged, omni-channel helpdesk platform. LiveAgent will let you pick and choose which features you use. For example, you can use their live-chat widgets, or you can connect a voice ip line to take calls. It can even handle contact forms. In any case, client information will be readily available for a better support experience.
Desventajas
As functional as the web platform is, they are a bit stagnant on modern working life. For example, logging into two browsers will close the session on one side, and their mobile App on iOS doesn't send notifications if you are AFK on your computer. The app is not very friendly. Knowledge base pricing seems a bit high for what I believe is a very simple feature.
Respuesta de

QualityUnit

Hi Alfredo :) thanks a lot for your kind and honest feedback! We are thrilled to have you with us. We want to be the best on the market and our team is taking notes of any suggestions for improvement via chats on our website or via email at [email protected]

Respondido el 21/4/2021
Sector: Administración gubernamental
Tamaño de la empresa: 501-1.000 empleados
Software usado

A diario

durante

Más de dos años

Fuente de la opinión
Relación calidad-precio
4
---
An Easy and dependable app
The Live agent has been a very essential app to our organization as it improved our response time to our clients which has improved our productivity.
Puntos a favor
This is an easy to use app which helps me in managing my clients perfectly. It helps me keep tabs on my clients with so many reporting features which I can actually choose from. I love the interface it uses to display clients information which is always on request.
Desventajas
I was making use of this software and logged into two browsers, the first session was actually closed to my surprise and this happened a lot of time after that period. The software interface should also be upgraded by the developers as it looks more of an old app.
Respuesta de

QualityUnit

Hello, thanks a lot for your kind feedback! :) We are glad to see that you are happy with LiveAgent. You know that we are here for you 24/7 whenever you need any help or guidance :)
-LiveAgent team

Respondido el 15/10/2021
Sector: Comercio minorista
Tamaño de la empresa: 11-50 empleados
Software usado

A diario

durante

Más de un año

Fuente de la opinión
Relación calidad-precio
5
---
Significant Value for the price
Puntos a favor
Price, Excellent customer support, large amount of features and functionality
Desventajas
While I love the complete control of all the automated systems being programmable, it could use some additional default built in options. Comparing LiveAgent to competitors like ZenDesk is like comparing Linux to Apple. LiveAgent gives you complete control - but you have to set up everything. The other software out there doesn't let you customize, but everything works for you. An in between 'windows' option that allows control for those who want it but is smoother to set up for those who don't want the extra work would be optimal. That said, programs that do it for you tend to cost a lot more, which would defeat LA's primary value, the low cost.
Razones para elegir LiveAgent
Able to bring in information, sales channels, and customers from what was previously multiple products into one centralized system
Razones para cambiar a LiveAgent
Price, functionality, control
Respuesta de

QualityUnit

Dear Ben, thank you for your honest feedback! We really appreciate it! :) The reason why LiveAgent was developed in a way that you have to set the majority of things up is so that it would work for each client exactly how they need. Usually, businesses differ from one to another and that is why we wanted to give everybody a chance to adjust it to their business and needs. You know where to find us should you need anything! :)

Respondido el 4/3/2020
Christoph S.
Christoph S.
Sector: Logística y cadena de suministro
Tamaño de la empresa: 501-1.000 empleados
Software usado

A diario

durante

1-5 meses

Fuente de la opinión
Relación calidad-precio
4
---
Positive Feedback
The Live Agent works very well for our company. Regarding this tool we receive now more specific tickets what increase the time for solving a ticket and makes the work for administrators a lot easier.
Also we use the reporting tool what helps a lot to get an overview about all cases and solved problems.
Puntos a favor
- fast support help
- many possibilities to design a template for more usefull tickets
- nice overview because of the reporting tools
Desventajas
I could not write any negatives since now
Razones para elegir LiveAgent
The Redmine was not supporting O365 and wasnt easy to use
Razones para cambiar a LiveAgent
Teams is to complicated to implement
Respuesta de

QualityUnit

Hello Christoph. Thank you for your kind feedback! We are happy to see that LiveAgent works well for your company :)
- LiveAgent Team

Respondido el 3/9/2021